---
REFPACK 017

July-August 2016
---
MEMBERS LOGIN To Download Video
JOIN TODAY To Access Members Only Content
Every other month, members of Animation Resources are given access to an exclusive Members Only Reference Pack. These downloadable files are high resolution e-books on a variety of educational subjects and rare cartoons from the collection of Animation Resources in DVD quality. Our current Reference Pack has just been released. If you are a member, click through the link to access the MEMBERS ONLY DOWNLOAD PAGE. If you aren't a member yet, please JOIN ANIMATION RESOURCES. It's well worth it.
Two Paper Puppet films by Lotte Reiniger



"Helen La Belle" (1957) "A Night In A Harem" (1958)
In 1956, Lotte Reiniger partnered with a British company called Fantasia Productions to create animated paper puppet films in color. She only ended up making two films under this agreement, "Helen La Belle" and "A Night In A Harem". The films were thought to only survive in fragmentary form until the British Film Institute combined two prints of each to create complete films.
"La Belle Helene" Synopsis: Paris, the son of King Priamos receives an apple intended for the fairest Goddess of all. Three Goddesses vie for the honor- Juno, Minerva and Venus. Each promises Paris a gift in return for being chosen, but Paris chooses Venus. Mercury takes Paris to meet Helena, wife of King Menelaos. Paris and Helena fall in love. The Gods conspire to kidnap King Menelaos so the couple can be alone.
"A Night In A Harem" Synopsis: Newlyweds traveling by hot air ballon are stranded when their balloon crash lands in the desert. Arab soldiers tie the groom to a palm tree and abduct his bride. She is taken to the Sultan, who locks her in his harem. The groom befriends a lion who leads him to the Sultan's court. He attempts to rescue her, but is captured himself. At the last minute, the couple escapes when the balloon miraculously reappears.
These two films are unique because they are not silhouette films. The joints in the puppets are clearly visible. This reveals aspects of Reiniger's technique that aren't visible in her silhouette films.
REFPACK017: Two Films By Reiniger



MP4 Video File / 28:59 / 492 MB Download
---
MEMBERS LOGIN To Download Video
JOIN TODAY To Access Members Only Content
---
---
MEMBERS LOGIN To Download Video
JOIN TODAY To Access Members Only Content
---
Not A Member Yet? Want A Free Sample?
Check out this SAMPLE REFERENCE PACK! It will give you a taste of what Animation Resources members get to download every other month!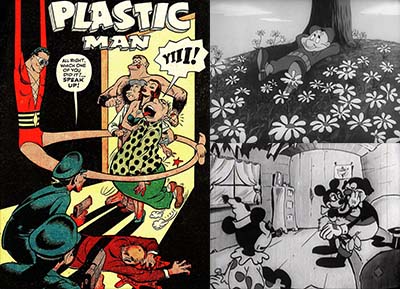 by

Comments