---
REFPACK 020

January-February 2018
---
MEMBERS LOGIN To Download Video
JOIN TODAY To Access Members Only Content
Every other month, members of Animation Resources are given access to an exclusive Members Only Reference Pack. These downloadable files are high resolution e-books on a variety of educational subjects and rare cartoons from the collection of Animation Resources in DVD quality. Our current Reference Pack has just been released. If you are a member, click through the link to access the MEMBERS ONLY DOWNLOAD PAGE. If you aren't a member yet, please JOIN ANIMATION RESOURCES. It's well worth it.
Two Films By Charlie Bowers



He Done His Best (1926) / A Wild Roomer (1926)

What do you get if you take the imagination of a great animator and cross it with the mind of a brilliant slapstick comedian? The answer is… Charlie Bowers. Almost forgotten today and rarely mentioned in histories of silent comedy, in his day Bowers was a successful and well known film maker, a peer of Chaplin, Keaton and Lloyd.
Bowers started his career as a cartoonist for Raoul Barré on the Mutt & Jeff cartoons. But he was a gifted performer as well as being a cartoonist, and in the mid 1920s he starred in a series of silent live action comedies. These shorts are unique because they employ animation to create eye-popping fantastic effects. The French surrealist André Breton spoke very highly of these films. We are happy to be able to share two of these shorts with you… "He Done His Best" and "A Wild Roomer", both from 1926. Bowers performs in these shorts as a "regular fella" much like Keaton and Lloyd, but the slapstick isn't the thing that distinguishes these shorts. I think you'll be amazed by the inventiveness of the mechanical effects and stop motion animation.
REFPACK020: Charlie Bowers Silents



MP4 Video File / 47:28 / 845 MB Download
---
MEMBERS LOGIN To Download Video
JOIN TODAY To Access Members Only Content
---
---
MEMBERS LOGIN To Download Video
JOIN TODAY To Access Members Only Content
---
Not A Member Yet? Want A Free Sample?
Check out this SAMPLE REFERENCE PACK! It will give you a taste of what Animation Resources members get to download every other month!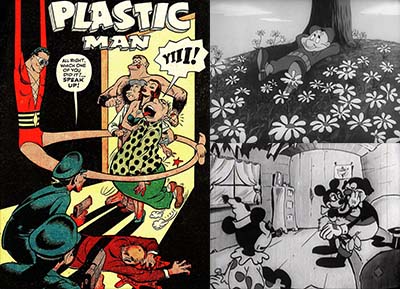 by

Comments