REFPACK 029

Members Only Download
Every other month, members of Animation Resources are given access to an exclusive Members Only Reference Pack. These downloadable files are high resolution e-books on a variety of educational subjects and rare cartoons from the collection of Animation Resources in DVD quality. Our current Reference Pack has just been released. If you are a member, click through the link to access the MEMBERS ONLY DOWNLOAD PAGE. If you aren't a member yet, please JOIN ANIMATION RESOURCES. It's well worth it.
---
MEMBERS LOGIN To Download Video
JOIN TODAY To Access Members Only Content
---
Milky Way
MGM / Rudolph Ising / 1940
Perhaps the most unjustly neglected classic animated shorts are the early MGM cartoons. Hugh Harman and Rudy Ising left Warner Bros in 1934 to join MGM, producing several cartoons starring Bosko, along with a series of musical one-shot cartoons called Happy Harmonies. Roughly patterned after Disney's Silly Symphonies, these musical cartoons ran far over budget, and in 1937, MGM severed its contract with Harman and Ising and formed their own in-house animation studio under Fred Quimby. Harman and Ising were hired on as contract employees of MGM, directing one-shots and Barney Bear cartoons until they parted company with the studio during WWII.
The two films we are sharing with you today represent the best of Harman and Ising's work. "Milky Way" was the first non-Disney animated short to be awarded an Oscar, winning over the first Bugs Bunny cartoon and the first of the Tom & Jerry shorts. It richly deserved the honor. The lushness of the production values rivals the most elaborate of Disney's shorts. In particular note the solidity of the drawing by Mike Lah, Pete Burness and Ray Abrams, the brilliant color palettes of the backgrounds, and the spectacular effects animation. Many of the shots in this short consist of pans with action beginning in one end of the pan and tracking it through to the other end. This contributes to the forward momentum of the film and prevents it from dragging like so many other Harman-Ising cartoons.
REFPACK029: Milky Way

M4V Video File / HD / 7:28 / 387 MB Download
---
MEMBERS LOGIN To Download Video
JOIN TODAY To Access Members Only Content
---
The Hungry Wolf
MGM / Hugh Harman / 1942
The other MGM film we are featuring, "The Hungry Wolf" is unique to the Harman-Ising filmography. Produced at the very end of the directing partners' tenure at MGM, the animation staff includes many of the finest artists ever to work at the studio… in particular, Irv Spence, Ken Muse, Jack Zander and Pete Burness. When this film was made, Rudy Ising had already left MGM to open his own studio. Soon after, Rudy Ising would resign to join the Army Air Force's First Motion Picture Unit.
A while back, I received a phone call from Ralph Bakshi asking me about this film. He had stumbled across it on YouTube and was blown away. He praised the power and guts of the animation- clarity and directness of purpose quite different than the typical "lily gilding" and excessive polish common in Harman-Ising cartoons. Ralph pointed at a few scenes in particular and asked who the animator was. It turned out to be Bill Tytla, who was picking up work with MGM after the Disney strike. Ralph insisted I share this film with all of you so you can study it too. Here it is!
REFPACK029: The Hungry Wolf

M4V Video File / SD / 9:02 / 199 MB Download
Many thanks to Advisory Board member Steve Stanchfield for sharing these rare films with Animation Resources. We are very fortunate that Steve uncovers these lost jewels and shares them with us. Steve's video company, Thunderbean Animation is doing great work transferring and restoring rare animated films. We greatly appreciate his unfailing support of our Animation Archive Project.
---
MEMBERS LOGIN To Download Video
JOIN TODAY To Access Members Only Content
---
---
MEMBERS LOGIN To Download Video
JOIN TODAY To Access Members Only Content
---
Not A Member Yet? Want A Free Sample?
Check out this SAMPLE REFERENCE PACK! It will give you a taste of what Animation Resources members get to download every other month!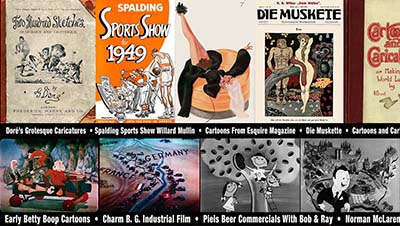 by

Comments