People who aren't members of Animation Resources don't understand how comprehensive our Reference Packs are. Over the next couple of weeks, we will be posting what each section of our current RefPack looks like, starting today with the Featured section. If you are a member of Animation Resources, click on this post to go to the Members Only page. If you aren't a member yet, today is the perfect time to join! Our current Reference Pack is one of our best yet, and General and Student Members get access to a special Bonus Archive with even more material from past Reference Packs.
What are you waiting for?



JOIN TODAY!
https://animationresources.org/membership/levels/

Every other month, Animation Resources shares a new Reference Pack with its members. They consist of an e-book packed with high resolution scans and video downloads set up for still frame study. Make sure you download the Reference Pack before it's updated. When it's gone, it's gone!
REFPACK045: April / May 2022
PDF E-BOOK: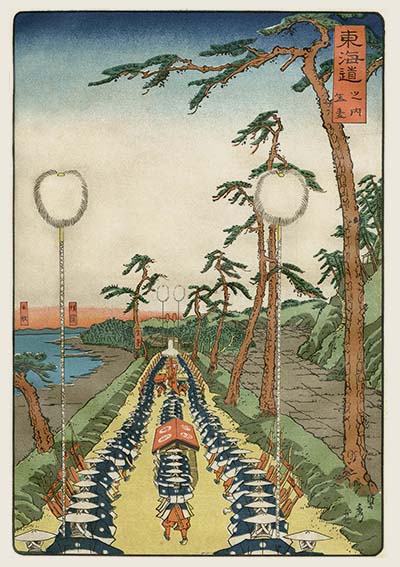 Famous Pictures Of The Daimyo Procession



Toko'en Publishing / Akiyoshi Zentaro, editor (1918)
Download this article
From the 17th to the 19th century, an art form flourished in Japan in isolation from the rest of the world. It was a specialized form of woodblock printing called Ukiyo-e. Today, we look at these prints and recognize the beauty of composition, color and design which derived from Chinese painting techniques. But there's more to this art than meets the eye.
Understanding the cultural background to the title, reveals a great deal about the spirit behind the art. "Uki-yo" was a Buddhist term, meaning "sad world", and "Ukiyo-e" is a play on words, literally translating to "floating world". The entertainment district in the city of Edo (now known as Tokyo) was surrounded by a moat filled with water. At night, the bars, Kabuki theaters, restaurants and brothels were lit up and appeared to be floating on the water. So it became known by the nickname "the floating world". The world of Buddhist monks might be sad, but not the floating world of Edo.
Woodblock prints depicted the things people could see in the floating world, so the term Ukiyo-e came to be applied to them too. These were pictures of famous Kabuki actors that people collected to follow their favorite stars, much like Hollywood movie magazines in the 40s and 50s. The prints also depicted beautiful waitresses at restaurants and famous concubines.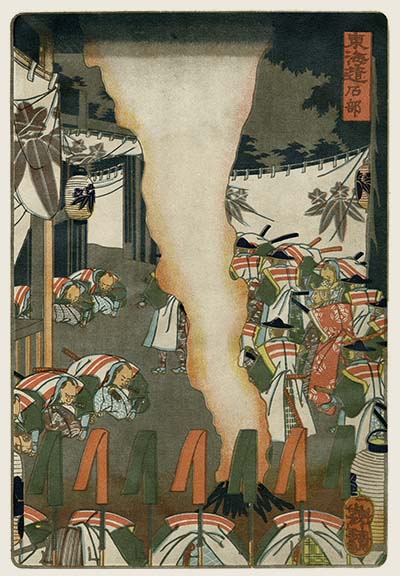 From the 10th century to the middle of the 19th century, Japan was divided up into vast hereditary territories ruled by feudal lords called the daimyo. Above them were the military leaders, known as the shogun, and the emperor and his court in Kyoto. The daimyo held military and police powers within their districts, as well as collecting taxes and wielding economic control. The daimyo hired samurai warriors to defend their land holdings.
The shogun wanted to prevent the daimyo from revolting and taking power away from them or the emperor, so they set a law requiring them to live in Kyoto where they could keep close watch on them. In a sense, they were keeping the lord and his family hostage to insure that they wouldn't try to usurp power. The daimyo appointed relatives to represent them in their home province and conduct business. There were battles between daimyo clans, seeking to enlarge their land holdings; between the clans and samurai, who wanted independence from the control of the daimyo; and between daimyo in Kyoto and their representatives in their territories.
Eventually, it became impossible for the daimyo to spend all of their time at the emperor's court, so the law was amended to allow them to spend alternate years in their territories and at the shogun court in Edo. So every other year, the feudal lord was required to gather up his family, his possessions, his samurai and his retainers and travel across Japan to the city of Edo. There were about 250 daimyo clans in all, so the main road from one end of Japan to the other, called the Tokaido Road, would often have ceremonial processions where an entire feudal court would travel the length of the road in parade formation. The lords tried to outdo each other with pomp and displays of their wealth and power, and the lower classes who witnessed the parade were required to step aside and bow, letting the procession go by.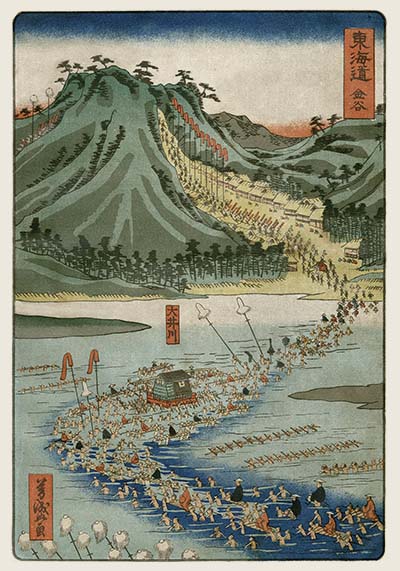 The daimyo procession was a popular subject for ukiyo-e prints over the years, and in 1918 publisher Toko'en hired editor Akiyoshi Zentaro to create a compilation book titled "Well Known Pictures Of The Daimyo Procession". Animation Resources obtained a first edition printing of this book, and although it is lithography, not hand carved woodblock printing, the image quality is remarkable. The artists represented in this book include many of the major names in ukiyo-e, including Hiroshige, Toyokuni and Yoshitoshi.
REFPACK045: Daimyo Procession

PDF / 106 Pages / 449 MB Download
Two Screen Songs Shorts



She'll Be Coming' Round The Mountain (1949) / Base Brawl (1948)
I had a request from a member to share some cartoons from the Famous Studios. I understand why he wanted to see some of these cartoons. Famous cartoons have been out of circulation for a very long time, and the copies on YouTube are poor quality prints. I hesitate to share certain things, because pointing out what is worthy of study in them requires a lot of explanation. The truth is that after the first few years of the studio, Famous settled into a rut of formulaic banality that it never escaped from. There are an awful lot of bad things in these cartoons. But even the worst cartoons from the golden age have something to teach us. So here are a pair of Screen Songs by Famous Studios, "She'll Be Coming Round The Mountain". and "Base Brawl".
When I was a kid, I remember seeing Screen Songs on TV. They always elicited groans from me and my friends. They consisted of a bunch of random gags strung together without a story, the jokes were completely devoid of humor, and a sizable chunk of the cartoon was taken up by a bouncing ball sing-along. If you've ever seen a sing-along with a live audience, you know they can be a lot of fun. It doesn't matter how well you can sing. There's no reason to be embarrassed, because the lights are off and no one can see you. Inevitably, there are people in the crowd singing harmony, making the massed voices sound even better. When the song ends, there is a feeling in the audience that everyone has just participated in something special. In fact, sing-alongs were one of the first forms of interactive entertainment. But on television, they are something else altogether. Only a dolt would sing along with a television set. When these sequences were shown on TV, kids weren't excited to participate, they were just waiting for the segment to be over, so the cartoon could come back.
However, the format of these cartoons isn't their biggest problem. The real problem is that these cartoons are undirected and poorly written. They contain some great animation and timing, but the cartoons themselves are poorly presented. Gags don't build to a climax. It's just one unmotivated gag after another to fill time until the seven minutes runs out. The gags themselves consist of low grade humor— visual puns and obvious exaggerations. The songs are old fashioned and the situations are stereotypical and trite. All in all, there's a good reason why these cartoons still elicit groans.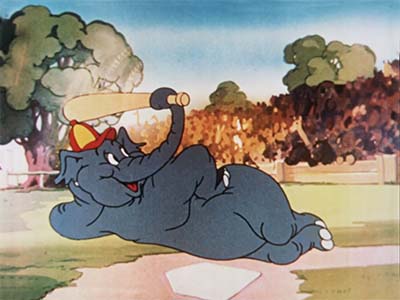 When I present cartoons like these, I feel compelled to remind you that at Animation Resources, we don't just share perfect examples of artistic creation. Some of the material we share is old fashioned or have objectionable content, like ethnic stereotyping. Others are poor on one level, but they might have other redeeming features that are well done and worthy of study. We expect our readers to be willing to parse and break down the things we share, rejecting the junk and identifying the good. That said, what is it in these cartoons that is good? Well, Famous Studios had some excellent animators. Others are better at identifying individual animators by their work than I am, but I'll point out some scenes that would be worth your time to still frame through and analyze…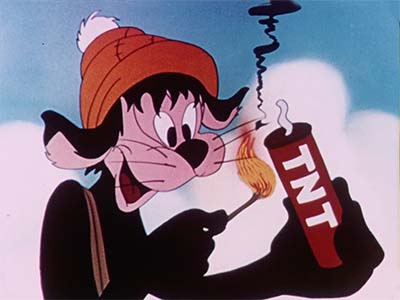 "She'll Be Coming Round The Mountain" has a few scenes with fun and appealing animation. At 3:06, a cat fires a rifle then tiptoes around a tree to take a drink out of a bottle of moonshine. The payoff to the gag isn't at all funny, but the scene is animated funny. You laugh at how the cat moves, not the joke. The closeup of the cat putting the dynamite in the bone is the same. Again, the setup is more appealing than the payoff. "Base Brawl" is even better. Take a look at the scene of the elephant pitching beginning at 1:13. Still frame through the scene and note how the volumes shift as the elephant winds up and pitches. His weight transfers from one foot to the other. The camera pans to accentuate the momentum, and the arms become simplified curves to clarify the action. Also note how the trunk is animated to follow through with the pitch as overlapping action. Throughout the cartoon, there are variations on this basic pitch. Each one is interesting. Even better is the scene at 3:22 where the elephant is running the bases. There is a great feeling of weight and momentum in the run, and the poses transition from one to another smoothly, not snap to pose like it would be handled in a Tex Avery cartoon.
REFPACK045: She'll Be Coming Round The Mountain

MP4 Video File / SD / 06:57 / 123 MB Download
REFPACK045: Base Brawl

MP4 Video File / SD / 07:54 / 111 MB Download
Linus The Lionhearted s02e02



Irv Spector / Ed Graham Productions / 1964
Linus the Lionhearted bears the dubious distinction of being the only Saturday Morning cartoon series to be cancelled because a law was passed against it! Read on, and I'll explain…
In 1959, Linus the Lionhearted was created by the Ed Graham Agency as the mascot for Post's "Heart of Oats" cereal. The character proved to be more popular than the cereal. Not long after its introduction, Linus was reassigned to represent "Crispy Critters". The earliest commercials featuring the character were animated by Robert McKimson, but the character was redesigned in 1964 and joined a group of other Post mascots: Sugar Bear, Lovable Truly, Rory Raccoon and So-Hi in a television series which debuted the following year.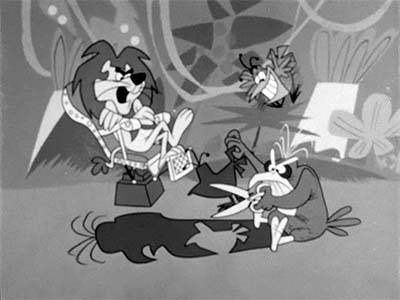 The series included the best of the best in the business… The voice cast included Sheldon Leonard, Carl Reiner, Ruth Buzzi, and Bob McFadden. And guest voice actors included Stiller and Meara, Jonathan Winters and Jesse White. The theme songs and underscore were by Johnny Mann, whose music for The Alvin Show was so distinctive. The art department was led by Irv Spector, with support from T. Hee, Bob Kurtz, Osmand Evans, Ted Bonnicksen, Lee Mishkin, Corny Cole, Cal Howard, Manny Gould, Ken Hultgren, Virgil Ross, Rudy Zamora, Amby Paliwoda and Bob Givens, among others.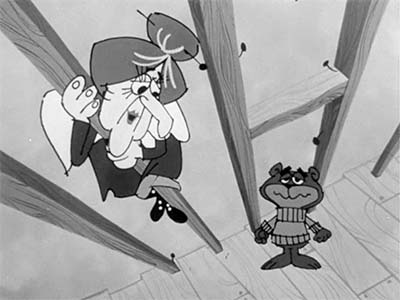 Creating a television series starring cereal mascots was an ingenious idea. Post bought out the advertising time for the program and instead of cutting away from the show during commercial breaks, the characters simply reappeared selling cereal. To the viewer, the whole half hour seemed like a continuous television program. To the FCC however, it felt like a half hour long commercial. In 1969, the FCC ruled that children's show characters were no longer allowed to appear in commercials running with the same program in which they appeared. This eliminated Walter Lantz and Hanna Barbera's Kellogg's commercials during their shows, as well as puppet show host Captain Kangaroo's contract with Crayola crayons.
Television animation has been severely limited over the years by FCC regulation. But these rules don't apply on the internet. The lines between advertisement and program can be totally blurred in web cartoons. This keeps the audience engaged, and prevents them from tuning out commercials. For some reason, many people on YouTube adhere to the format of television advertising, even though they aren't required to. If you create animation for the internet, you might want to consider integrating your content and advertising into a single uninterrupted unit. The audience will be more entertained, and you will sell more products.
REFPACK045: Linus The Lionhearted

MP4 Video File / SD / 28:46 / 416 MB Download
Many thanks to Animation Resources Advisory Board Member
Steve Stanchfield
for sharing these rare Famous Studios and Linus The Lionhearted films with us.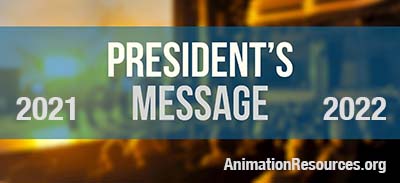 Animation Resources is asking our membership to consider donating to help us establish a video podcasting studio to be able to present seminars, interviews and informal updates live streamed on YouTube and Facebook. Our goal is for 25 of our members and supporters to donate $100. If you donate $100, we will provide you with a coupon code for a free membership to give as a gift to a friend or peer, or we can credit your donation to sponsor two students for a one year student membership.
By helping others, you help yourself.
Please consider donating using the PayPal Donate Button below. For more information on our Video Podcasting Fundraiser, see the 2022 President's Message.


Animation Resources depends on your contributions to support its projects. Even if you can't afford to donate $100 or join our group right now, please click the button below to donate whatever you can afford using PayPal. Every little bit helps.












by

Comments