People who aren't members of Animation Resources don't understand how comprehensive our Reference Packs are. Over the next couple of weeks, we will be posting what each section of our current RefPack looks like. If you are a member of Animation Resources, click on this post to go to the Members Only page. If you aren't a member yet, today is the perfect time to join! Our current Reference Pack is one of our best yet, and General and Student Members get access to a special Bonus Archive with even more material from past Reference Packs.
What are you waiting for?



JOIN TODAY!
https://animationresources.org/membership/levels/
REFPACK045: April / May 2022

EThe world of animation is much bigger than it might appear to us at first glance. We are all familiar with the films we grew up with, but Hollywood wasn't the only place that produced great cartoons… Poland, Japan, Russia, China and Europe all have their own traditions and a rich history of animated film making. Animation Resources' archive contains many foreign films that are rarely seen in the United States. We feature a sampling of interesting animation from around the world in each Reference Pack.
Winnie The Pooh episode 01



Fyodor Khitruk / Soyuzmultfilm, Russia / 1969
Download this article
In previous Reference Packs, we shared Roman Davydov's series of films based on Rudyard Kipling's The Jungle Book. Davydov's series was produced independently of Disney's version. This time, we have the first episode of a similar set of films, Fyodor Khitruk's "Winnie The Pooh". Like the Russian Mowgli films, this series is quite different than the Disney version. Khitruk omits Christopher Robin and focuses solely on Winnie the Pooh and his friends. He said that he made this choice because he didn't want the characters to be subordinate to a human character; and comparing the "Little Black Rain Cloud" sequence, it's clear that Khitruk's choice was a good one. On a visit to California, Khitruk paid a visit to the Disney Studios where he met Woolie Reitherman, the director who had won an Oscar for Disney's version of "Winnie The Pooh". Reitherman admitted to Khitruk that he liked Khitruk's films better than his own.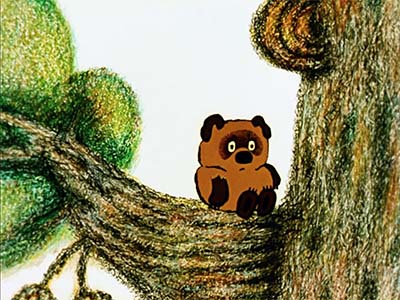 The story of the first short film in the series follows the same plot as Disney's first Winnie The Pooh film… "Winnie The Pooh And The Honey Tree". If you have seen that film, you will have no problem following along, even if you don't speak Russian. Like the Disney film, Pooh makes up little songs and tries unsuccessfully to fool the bees. Instead of Christopher Robin, he is accompanied by Piglet, who is less timid than in the Disney films and makes a good partner to Pooh.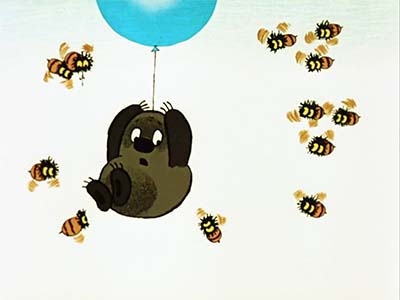 Although the pacing of the film is leisurely, the timing is still sharp. Khitruk focuses on "micro gags" and quick changes of expression that use personality to keep the audience engaged with the characters. The style is charming and disarmingly simple, much more in keeping with the spirit of the original book than Disney's version. There were two more films made in this series. We will have the next one for you in RefPack 046.
REFPACK045: Winnie The Pooh Ep01

MP4 Video File / SD / 10:08 / 160 MB Download
SD VIDEO: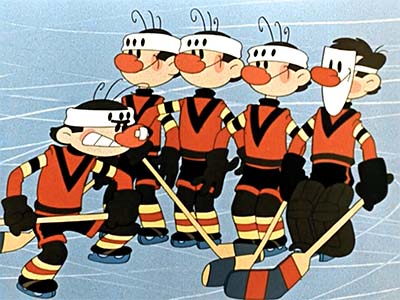 A Match Revenge



Boris Dyozhkin / Soyuzmultfilm, Russia / 1968
In our last Reference Pack, we shared a film called "Goal! Goal!" from 1964. This time, we are sharing the sequel made four years later, "A Match Revenge".
At Souyuzmultfilm in the late 1940s and 1950s, there was a stark division between animators and directors. Animators only animated. They had no say in the rest of the process. But in the 60s, largely due to the urging of Fyodor Khitruk, a new working method was introduced which involved the animators' input from the very start. This led to what was called the "aesthetic switch"— films became more of a team effort and the designs became streamlined and more animatable.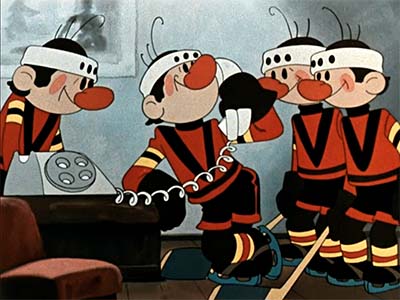 Boris Dyozhkin had a three decade long career as a director and animator at Soyuzmultfilm. In his first couple of decades, he was an exception to the rule at Soyuzmultfilm. He animated extensively on his own shorts. This made for a total integration of staging, posing and action, as well as allowing for split second timing. "Goal! Goal!" was a great success for Dyozhkin, leading to a sequel called "A Match Revenge" in 1968, and a series of shorts dealing with soccer, track and field, and figure skating.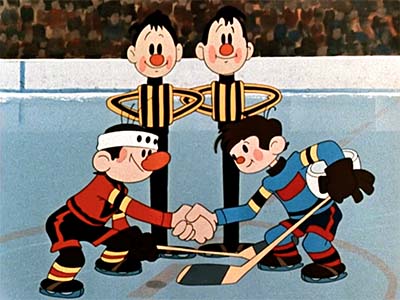 This film has no dialogue and the action speaks for itself, so I won't provide a detailed synopsis. The basic concept is that there are two opposing hockey teams: the Meteors and the Pennants. In "Goal! Goal!" the newcomers, the Pennants won in an upset over the defending champions, the Meteors. This film starts with the Meteors watching film of their humiliating defeat. They angrily vow revenge and challenge the Pennants to a rematch. The Meteors are agressive and determined to regain their title. They'll do anything to win. All seems lost for the Pennants until… Watch to find out!
We think you are really going to find a lot to like this film. Like John Sibley's animation in Disney's Goofy sports cartoons, the action can be very extreme and still maintain perfect clarity.
REFPACK045: A Match Revenge (1968)

MP4 Video File / SD / 20:22 / 796 MB Download
SD VIDEO: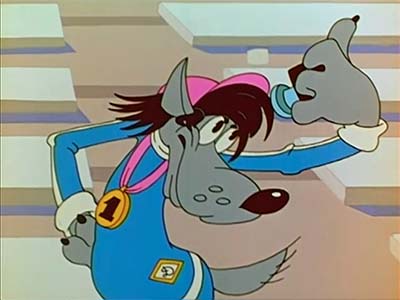 Well, Just You Wait Ep.04 "Sports Stadium"



Vyacheslav Kotyonochkin / Soyuzmultfilm, Russia / 1970
We continue the Russian Wolf and Rabbit cartoons with episode 04, "Sports Arena".
The premise of Nu, Pogodi! (which translates into English as Well, Just You Wait!) was pitched by a writing team of satirical humorists to many directors at Soyuzmultfilm, but was rejected every time. Finally in 1969, Gennady Sokolsky agreed to direct a 2 1/2 minute pilot for the series in an omnibus film called "Happy Merry Go Round". The general consensus at the studio was that the cartoon was "low class" and beneath the dignity of Soyuzmultfilm, but director Vyacheslav Kotyonochkin strongly believed in the concept, so the studio decided to take a chance and allow him to direct a few episodes… and then a few more… and then more.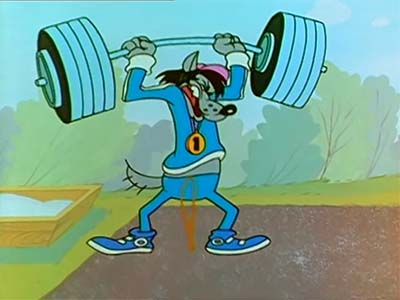 Kotyonochkin was proven correct. The cartoons were a huge success. Between 1969 and 2006, Soyuzmultfilm ended up making 22 episodes, and in a 2014 poll of audiences all over Russia, Well, Just You Wait! was voted the most popular cartoon series of all time by a landslide. Although the series resembles both Tom & Jerry and the Roadrunner and Coyote series, the director, Kotyonochkin claimed not to have ever seen any of these Hollywood cartoons until 1987 when his son got a video tape recorder and Western tapes began to be imported.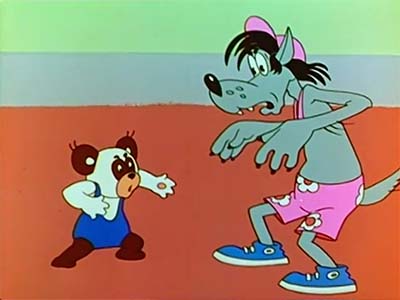 In these Russian cartoons, there's almost no dialogue, and the action almost always occurs on screen. Static tableaux are rare, as are detailed backgrounds and "on model" drawings. These cartoons focus on expressive poses and movement, and save time and expense by avoiding the careful cleanup required for character model details and overlapping action. The theory here is, if it moves funny, it's funny… and they are right about that.
Shamus Culhane once lamented that television animation consisted of mostly lip-sync animation. He would have preferred to do away with lip-sync entirely and just have simple drawings that really move. Well, Just You Wait proves that he was correct.
We will have more Wolf and Rabbit cartoons in upcoming Reference Packs.
REFPACK045: Well Just You Wait Ep. 04

MP4 Video File / SD / 08:58 / 131 MB Download
SD VIDEO: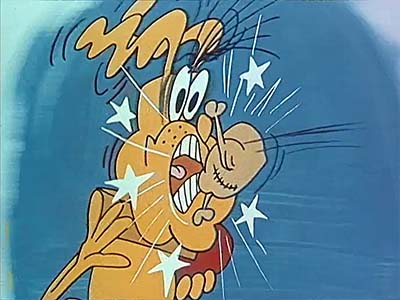 Dog, Cat And… Ep 4 "Refrigerator"



Zofia Oraczewska / Studio Miniatur Filmowych, Poland / 1972
In this Reference Pack, we are sharing another short cartoon from a series produced by Studio Miniatur Filmowych, Pies, Kot I… which translates to Dog, Cat And… This is a different sort of take on the Tom & Jerry model, with the opponents outsmarting each other instead of just chasing each other out of hate or hunger. There is more to the relationship between the characters than just rivalry. The relationship of the characters makes it easy to see how it relates to slapstick comedy teams like Laurel & Hardy and Fatty Arbuckle and Buster Keaton. The dog and cat are not just generic animals, but individual personalities with a dynamic relationship that is much more engaging than most "cat and mouse" or "dog and cat" cartoons.
These cartoons are almost devoid of dialogue with the focus on loose, funny animation. In fact, the drawings are often hilarious on their own, even removed from their context within the gag sequence. The facial expressions are well observed, and the poses employ clear silhouettes that form funny graphic shapes.
Well, Just You Wait!, and Dog, Cat And… both are very efficient at what they do. They could easily serve as a model for internet animation. The internet encourages repeat viewing more than television does. When you watch a dialogue driven cartoon on TV, once you've heard the jokes, you don't need to watch it again. However, a short cartoon that looks and moves funny is entertaining no matter how many times you watch it. And for the animator who is making the cartoon, it's a lot more fun to animate simple funny characters than it is to animated a lot of tedious lip-sync.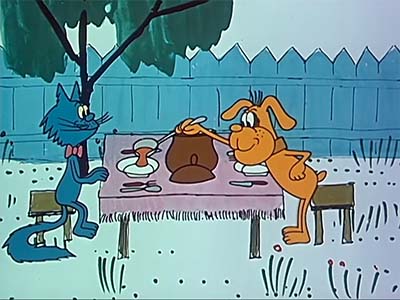 Dog, Cat And… looks like it was a lot of fun to make. The film makers at Studio Miniatur Filmowych didn't feel constrained by the ordinary lives of animals. Their characters can drive cars, build their own houses and go to exotic places. That freedom allowed the animators to keep their series fresh, and gave them the opportunity to experiment within a 10 minute format. Simple drawings, funny movement and no rules… these are the kinds of series that would work well as episodic internet cartoons.
We will have more episodes from this series in upcoming Reference Packs.
REFPACK045: Dog Cat And… Ep04

MP4 Video File / SD / 09:09 / 146 MB Download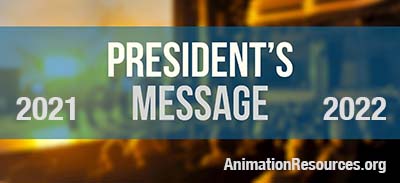 Animation Resources is asking our membership to consider donating to help us establish a video podcasting studio to be able to present seminars, interviews and informal updates live streamed on YouTube and Facebook. Our goal is for 25 of our members and supporters to donate $100. If you donate $100, we will provide you with a coupon code for a free membership to give as a gift to a friend or peer, or we can credit your donation to sponsor two students for a one year student membership.
By helping others, you help yourself.
Please consider donating using the PayPal Donate Button below. For more information on our Video Podcasting Fundraiser, see the 2022 President's Message.


Animation Resources depends on your contributions to support its projects. Even if you can't afford to donate $100 or join our group right now, please click the button below to donate whatever you can afford using PayPal. Every little bit helps.












by

Comments