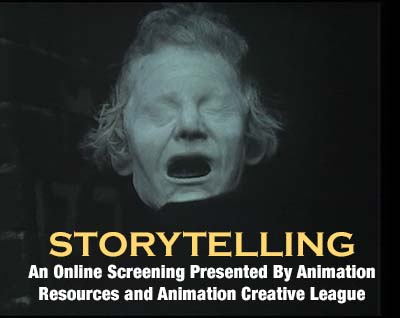 STORYTELLING
Event held February 21st, 2015 at 7:30pm
Sponsored by The Animation Creative League
Animation Resources Screening Room in Pacoima, CA
One of the most concentrated form of writing is the short story. In just a few pages, the writer needs to get across character, atmosphere, action and tie it all up at the end with a satisfying conclusion. Sound familiar? Animated shorts have the exact same goals in mind.
For those who missed our program, here are YouTube links to the films we screened. We are looking for donations to purchase lights and video cameras for our screening room. The goal is to be able to live stream our events. If you would like to contribute to this project, either monetarily or through technological assistance, let me know at sworth@animationresources.org.


"Oh Whistle And I'll Come To You" by M.R. James (1968)
M.R. James was an academic at Cambridge and Eaton. He was a renowned scholar with expertise in Medieval manuscripts. To entertain his students he wrote a ghost story for them every Christmas. These ghost stories are among the most famous short stories in English literature. James was a living contradiction. He lived through the industrial age and World War I, but at heart, he was a Victorian with a fondness for Britain's distant past. This adaptation of James' "Oh Whistle and I'll Come to You, My Lad" clearly reflects that dichotomy. The lead character is a rigid minded man of science who comes face to face with an ancient horror.
There are several interesting techniques in this teleplay… the use of non-verbal under the breath muttering similar to Popeye cartoons, and "micro-gags" which pepper the whole introductary section of the film. Micro-gags were used a lot in Disney features, they are amusing secondary actions which are not the focus of the scene, but serve to reveal the personality of the character in an amusing way. Here, they are skillfully used to bring the viewer into the lead character's world and point of view. But while we are distracted by the micro-gags, the real point of the story is going on in the shadows, just out of sight. It's a brilliant touch by the director Jonathan Miller, and it acts like a magician's misdirection to keep us occupied while something big sneaks up on us. This is one of the greatest British television programs ever aired. Enjoy!

Click here to view "Oh Whistle and I'll Come To You" (1968) in full DVD quality.


"The Signal Man" by Charles Dickens (1976)
Today, when we think of Charles Dickens, we don't normally think of him as a writer of ghost stories, but think about "A Christmas Carol" for a moment. He wrote many eerie short stories, and is widely considered to be the father of supernatural fiction. Before Dickens, ghosts in literature were primarily vague shadows of Kings and Queens that existed in ancient times, but Dickens was the first to place his ghosts in his contemporary Victorian times. It's a tribute to how effective he was at this that we still set many ghost stories in the 19th century.
Take a look at his story, "The Signal Man". Dickens not only uses real everyday people as the lead characters, but he bases the whole story on the most modern technology of the day… railroads. This would be like setting a ghost story today on the space shuttle or on a jet airliner. Yet Dickens uses our fear of technological catastrophe to heighten our fear of the unknown. This story may not seem so much like it today, but for its time, it was a great example of "thinking outside the box".

Click here to view "The Signal Man" (1976) in full DVD quality.


"The Hitch Hiker" by Roald Dahl (1980)
Roald Dahl was quoted as saying that he labored more over a short short story and it took longer to write than a novel. Distilling atmosphere, character, conflict and resolution into a few short pages took months of writing and rewriting. Because of this, he rarely wrote more than one short story a year. But the ones he wrote were absolute gems. In 1979 he adapted all of the short stories he had written into a British television series titled "Tales of the Unexpected". This is one of the best episodes from that series.
When George Clayton Johnson, writer on Rod Serling's "Twilight Zone" spoke to us at a Creative League meeting last year, he said that the way he approached writing was to come up with two characters, each with their own diametrically opposed argument and point of view, to create a conflict. But he didn't want the audience to be able to pick a side. Each argument needed to be perfectly balanced in opposition with the other, so the audience's sympathy alternates back and forth between the characters. Here is a drop dead brilliant example of that. In addition, the direction the story is going is revealed in perfect little glimpses, until the truth is finally revealed. Dahl was a superb storyteller with a great sense of timing.

Click here to view "The Hitch Hiker" (1980) in full DVD quality.
I hope you will view these films with your co-workers and fellow artists and discuss the techniques that you are able to glean from them about story construction and pacing. Feel free to discuss it in the comments section of our events page on Facebook…












by

Comments