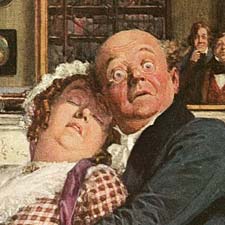 Frank Reynolds is a name that you don't hear mentioned much when artists are discussing classic illustrators. That's a shame, because there is a lot to learn from his work.
Reynolds was born in 1876, and gained fame for his humorous drawings in Punch, Sketch and The Illustrated London News. His specialty was caricaturization, and at the time, his drawings were described as being non-specific and even ugly. But with modern eyes, the clearness of compositions, economy of detail, and expressive caricature fit right in with what illustrators like Norman Rockwell were doing in the 40s and 50s. The books of Charles Dickens provided the perfect subject for Reynolds' talents.
In an article on Reynolds (available for viewing at Project Gutenberg) A.E. Johnson wrote: "It is related of Charles Dickens that the creation of many of his famous characters was inspired by a chance remark overheard in the street. A single telling sentence, uttering some quaint sentiment, perhaps in quaint idiom, would set up a train of ideas ultimately resulting, after much meditative elaboration, in a Mrs. Gamp or a Dick Swiveller. The process is not dissimilar, one imagines, from that by which the artist evolves a character sketch: with this difference, that whereas a solitary trait accidentally revealed, was to Dickens sufficient foundation upon which to construct his fanciful portrait, such studies of types as Frank Reynolds excels in must be the outcome, not of one 'thing seen,' but of reiterated observation of the same thing in identical or closely similar guise."
There's a lot to know about this great artist. Project Gutenberg has posted an overview of Reynolds' career. Check it out.
Stephen Worth
Director
Animation Resources
This posting is part of a series of articles comprising an online exhibit spotlighting Illustration.













by