Animated by Ted Sears and Willard Bowsky, with an eye-popping surreal ending by Grim Natwick, "Swing, You Sinners" was the first of many Fleischer cartoons that mixed surrealism, cartoony ghosts & goblins, and hot jazz. While other studios built their cartoons around fairy tale stories or topical gags, the Fleischers constructed cartoons in the same way jazz music was constructed… statement of the theme, a series of variations and a big finish.
Today, this important film was inducted into our digital collection.
If you have a blog or website, please link to us so more people can find out about the Animation Resources Animation Archive.
Stephen Worth
Director
Animation Resources
This posting is part of an online exhibit entitled Grim Natwick's Scrapbook.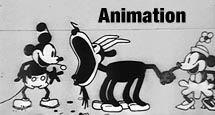 This posting is part of the online Encyclopedia of Cartooning under the subject heading, Animation.













by