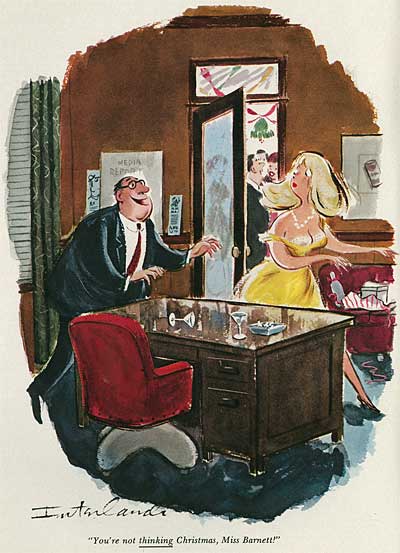 The internet never ceases to amaze me… I was working on this post, featuring early examples of Playboy cartoons by Phil Interlandi, when I took a break to check my email… A message had just come in from Interlandi's daughter Carla, filled with great info for our artist's biography entry. I'm going to let her tell you about her father…
A BRIEF HISTORY OF PHIL INTERLANDI

By Carla Interlandi Armstrong
Phil Interlandi was a veteran freelance magazine cartoonist whose work appeared in national magazines ranging from Look to Better Homes & Gardens but most notably in Playboy, where he was a mainstay for decades. A longtime resident of Laguna Beach, CA, Interlandi sold his first cartoon to Playboy in 1955. "He had an acerbic wit." said Michelle Urry, Playboy's cartoon editor. "He just ran roughshod over all the sacred cows. He didn't care about the taboos."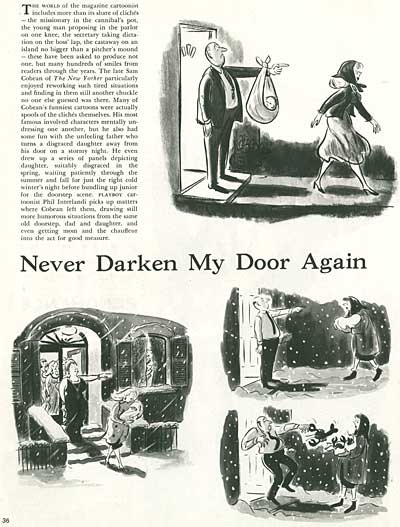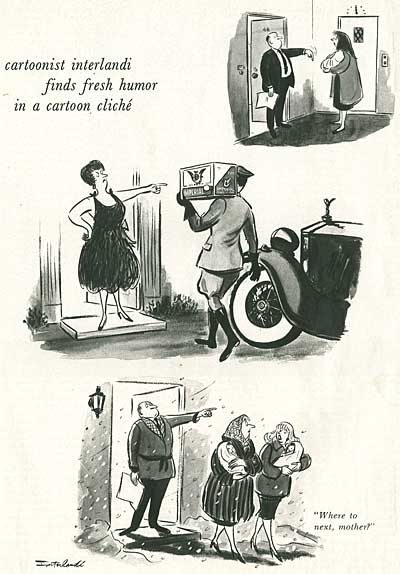 The Chicago-born son of Sicilian immigrants, Interlandi showed artistic ability at an early age, as did his identical twin, Frank, who later became a syndicated political cartoonist for the Los Angeles Times. During World War II, Interlandi joined the Army at 17. He drew cartoons for The Yank, the Army newspaper, and was later a prisoner of war in Germany, a subject he didn't like to talk about according to his daughter, Liza Stewart.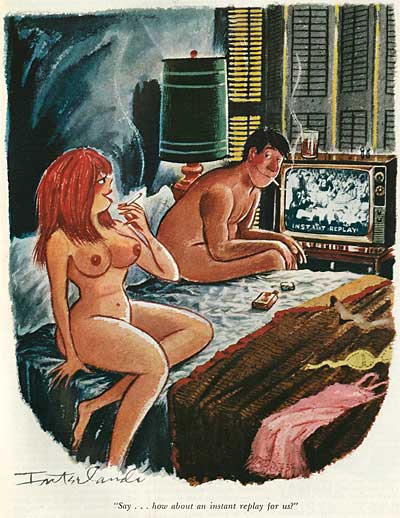 After the war, Interlandi and his twin brother studied at the Chicago Academy of Fine Arts. Interlandi worked a number of years in advertising before becoming a full-time freelance magazine cartoonist. A year after he moved to Laguna Beach in 1952, his twin followed. The inseparable brothers were part of Laguna's colorful cadre of cartoonists that grew to include Ed Nofziger, John Dempsey, Don Tobin, Roger Armstrong, Dick Shaw, Virgil Partch and Dick Oldden.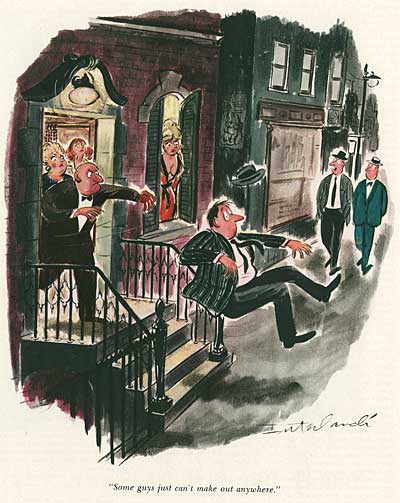 Following Phil Interlandi's lead, the cartoonists began a midday ritual of taking a break from their drawing boards and meeting in the bar at the White House restaurant on Coast Highway. "That was the first bar I walked into in Laguna," Interlandi explained in 1982, "and it became a habit."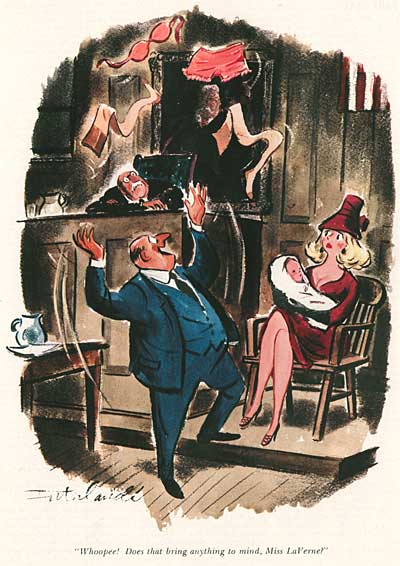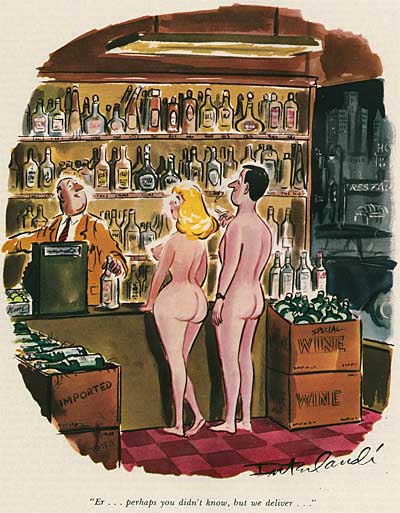 Interlandi illustrated a number of books, including Art Linkletter's Kids Say the Darndest Things, and I Wish I'd Said That, in addition to Dick Van Dyke's Faith, Hope and Hilarity: The Child's Eye View of Religion and Ed McMahon's The Barside Companion.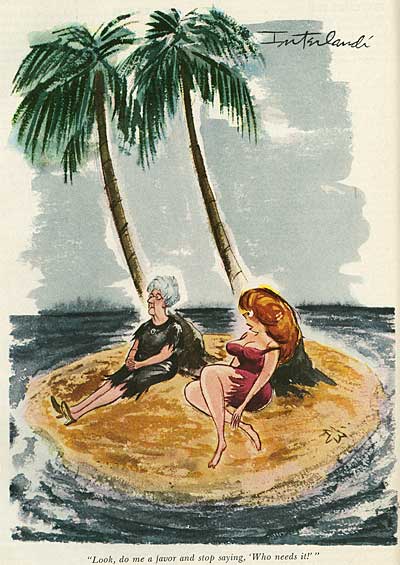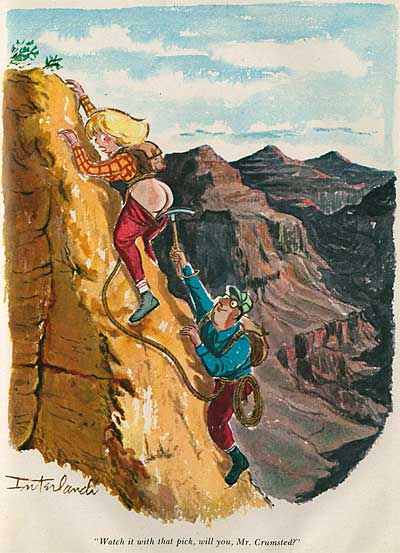 He was really just a marvelous artist," said New Yorker cartoonist Sam Gross, who had known Interlandi for 30 years. "He also really knew how to draw good looking girls and yet make the cartoon funny."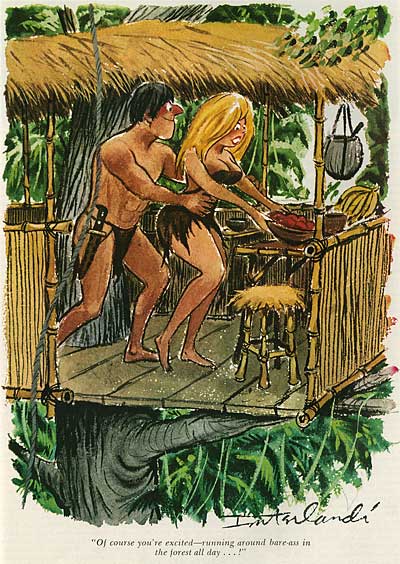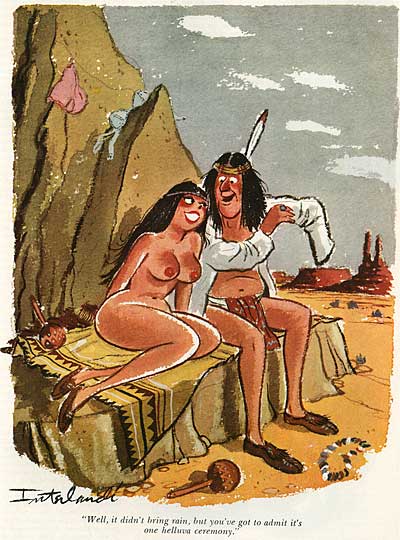 Phil Interlandi passed away in 2002 at the age of 78.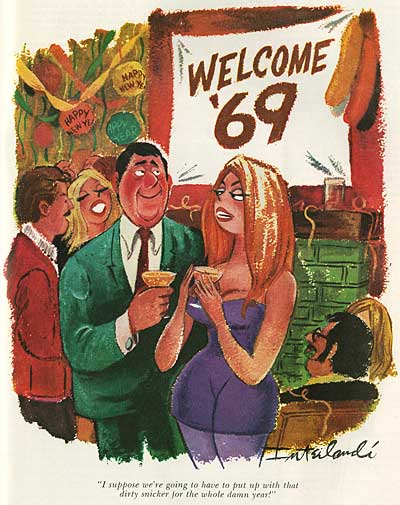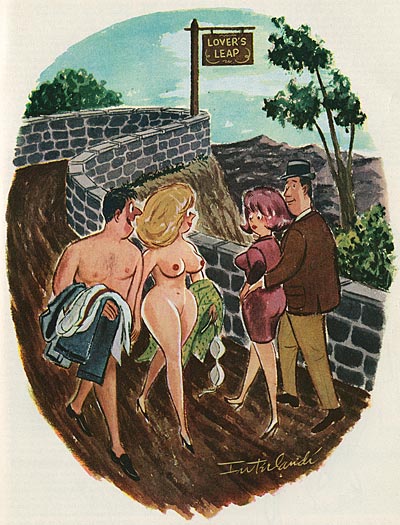 We changed our minds!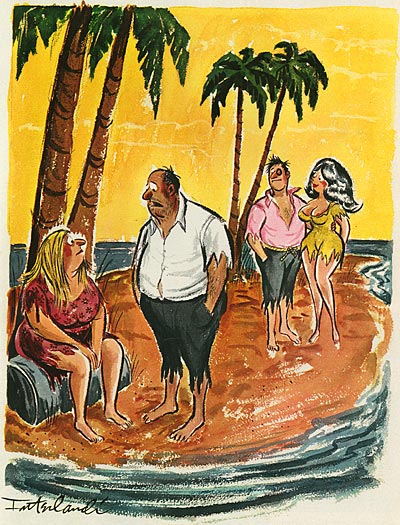 He'd rather fight than switch.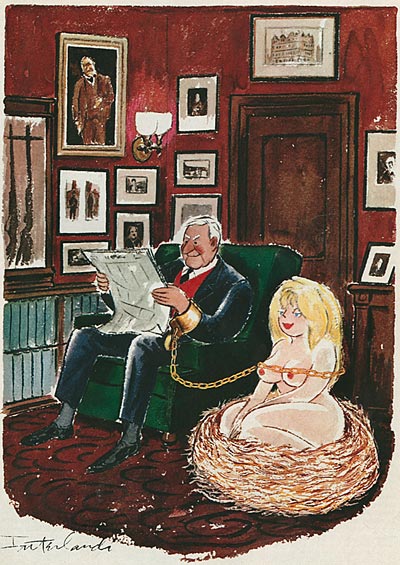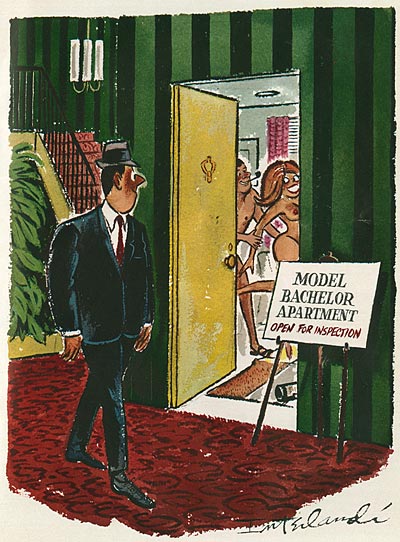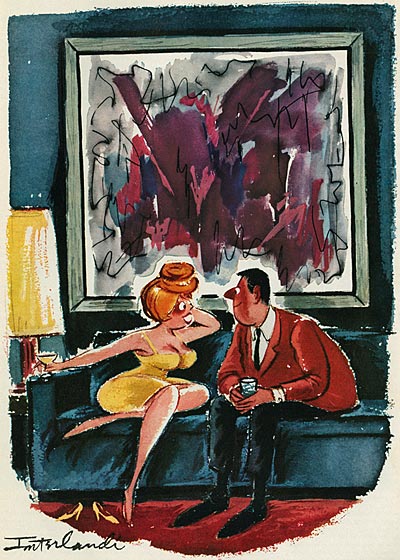 You have a dirty mind. I like that in a man.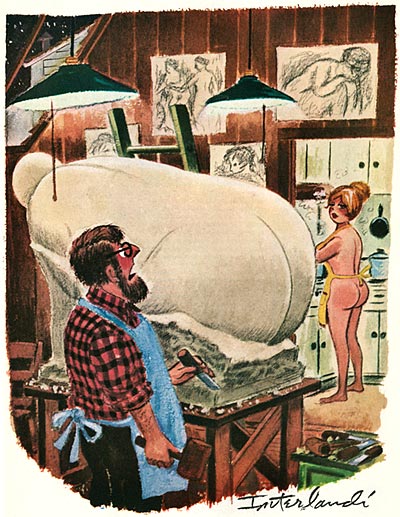 Daphne! Get your butt in here!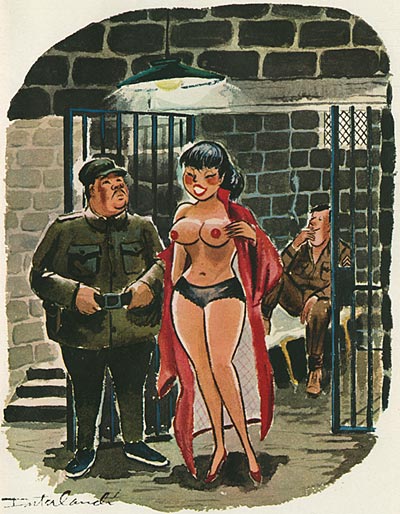 All I could get out of him was name, rank and serial number…
and an ingenious American invention called a "quickie".
Thanks to Carla Interlandi Armstrong for the insights about her father's life and career.
If you're a fan of Playboy artists like Cole, Dedini, Wilson and Sokol, you will want to get this great collection of cartoons, Playboy: 50 Years- The Cartoons. Check it out!
Stephen Worth
Director
Animation Resources

This posting is part of the online Encyclopedia of Cartooning under the subject heading, Magazine Cartoons.













by