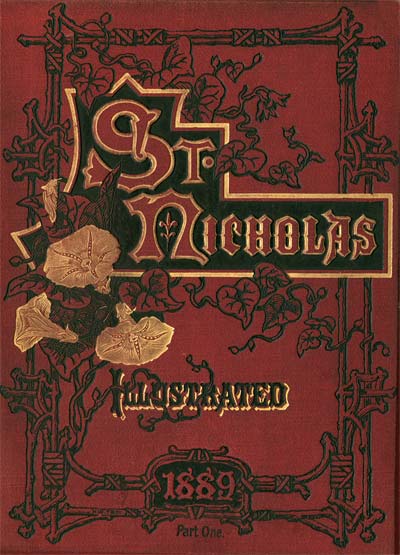 A MAGAZINE FOR CHILDREN
In 1872, Scribner's began publishing St Nicholas Magazine, a sister publication to The Century aimed at an audience between the ages of 5 and 18. As Linda Young points out in her excellent article on St Nicholas, in the late 19th and early 20th century, there was no real distinction between young children and teenagers. Children were considered children until they married or went away to college. Features "For The Little Folk" ran in St Nicholas side by side with articles on natural history or science intended for older readers. When it came to fiction, the subjects ranged from adventure stories about far-away lands to fairy tales and historical romance. St Nicholas was the premiere magazine of its type, and although it was aimed at children, it counted many adults among its readership.
But the main reason why we're interested in St Nicholas is the illustrations. Scribner's had access to many of the best artists of the day… Arthur Rackham, Harrison Cady, Maxfield Parrish, Willy Pogany, Charles Dana Gibson, Palmer Cox and Howard Pyle, among many others. But no artist was as closely associated with the look of St Nicholas as Reginald Birch.

Reginald Birch was born in 1856 in London, England. At the age of 14, he relocated to San Francisco, CA where he prepared wood block theater posters in his father's shop. In 1873, Birch attended the Royal Academy in Munich and upon his return to America, he settled in as an illustrator in New York City.
Today, Birch may be forgotten, but his contribution to our American cultural identity certainly isn't. At St Nicholas Magazine Birch took the character of Santa Claus, created by Thomas Nast in the 1862 Christmas Issue of Harper's Weekly, and refined it into the jolly bearded character in the red suit that we all think of today.
1906 Christmas cover by Reginald Birch

Reginald Birch illustrated a wide variety of poems and stories for St Nicholas, but perhaps the most famous was Frances Hodgson Burnett's "Little Lord Fauntleroy". Following Burnett's vivid description, Birch created the iconic image of the precocious little boy in curls wearing a black velvet suit with lace collar. This image became the basis for the character Buster Brown, and was widely lampooned in parodies casting Burnett's wunderkind as a spoiled brat or monster child, like Eddie Munster. The image of the enfant terrible in the Buster Brown outfit has entered our cultural subconscious to the point where most of us don't even realize where it came from… but it came from Reginald Birch.
Freddie Bartholomew as Little Lord Fauntleroy
By the beginning of World War I, Birch's Victorian pen and ink style was beginning to look dated. Demand for his services began to decline, and by 1930, he was penniless. He enjoyed an "Indian Summer" as a book illustrator in the late 30s until his failing eyesight forced him to retire in 1941. He passed away in 1943.
Here is a fantastic story written by St Nicholas editor, Tudor Jenks and illustrated in the distinctive style by Reginald Birch. Notice how Birch juggles the text in the layouts, his superb draughtsmanship and control of perspective, and the expressive posing of his characters.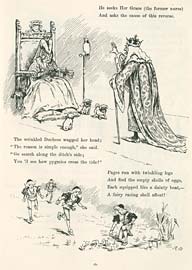 A SELECTION OF IMAGES FROM
THE CHRISTMAS, 1910 ISSUE
To finish out this post, here is a sampling of the sort of illustration and cartooning that filled the pages of a typical issue of St. Nicholas Magazine.
Stephen Worth
Director
Animation Resources
This posting is part of the online Encyclopedia of Cartooning under the subject heading, Magazine Cartoons.


This posting is part of a series of articles comprising an online exhibit spotlighting Illustration.













by