Today, we digitized a beautiful first edition of Bulfinch's "Legends of Charlemagne" illustrated by N. C. Wyeth. No illustrator of the golden age had a wider influence on the world of art than Wyeth. His son, Andrew Wyeth became a reknowned fine artist, and many of his other children and grandchildren became artists and musicians as well.
Wyeth studied under illustrator Howard Pyle, and quickly made a name for himself. His first published art was a cover for the Saturday Evening Post, a plum job right off the bat. In his early days, he was known as a Western artist. He travelled West to soak up the landscape. The trip resulted in a portfolio of images of Indians that vividly capture the light and spirit of the Old West.
Wyeth is best known for his book illustrations though. In 1911, he painted 16 color plates for Scribner's edition of Stevenson's "Treasure Island". It remains the classic version of the book. Wyeth was incredibly prolific over the next decade or so, "Treasure Island" was followed by "Kidnapped", "The Black Arrow", "The Boy's King Arthur" and many more. The book we are presenting today was published in 1924 by David McKay. It displays Wyeth at the top of his form. Even the endpapers are beautiful!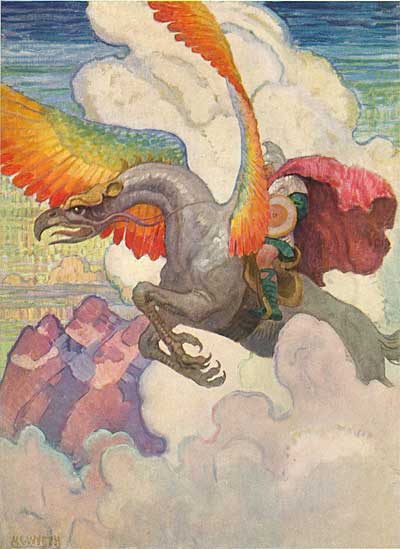 N. C. Wyeth Biography at the Brandywine River Museum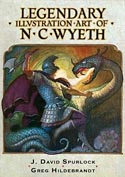 Great news! A new book on N. C. Wyeth is being released… Legendary Art of N.C. Wyeth by J. David Spurlock.
It's been quite a while since a good collection of this fabulous artist has been in print. Pick up a copy at Amazon.

Stephen Worth
Director
Animation Resources
This posting is part of a series of articles comprising an online exhibit spotlighting Illustration.













by