Al Capp once described Cliff Sterrett as "the finest cartoonist of them all". Yet most people have never heard of him or his strip, Polly And Her Pals.
Sterrett debuted the Polly strip in 1912. Initially, it focused on a pretty girl, but as the strip developed, Sterrett turned his attention to Polly's family- specifically, her father, known as "Paw" and her mother, referred to as "Maw". Other characters filled out the cast- Neewah, the family's houseboy; Ashur, the dimwitted nephew; and Carrie, Paw's sister in law. Shadowing Paw through the panels is Kitty, the cat.
Richard Marschall produced a pair of books documenting the Polly And Her Pals Sunday pages from 1926 to 1929. This was the prime era of the strip, with Picasso-esque cubist backgrounds and surreal gags. If you see these books for sale, grab them. By the mid-1930s, Sterrett was afflicted with arthritis, and had turned over a lot of the responsibility for the strip to his assistant, Paul Fung. Sterrett let Fung create the dailies without much input, but he supervised the Sunday pages personally, with Fung simply providing the background detail repeated from panel to panel.

My friend Kent Butterworth brought in a stack of original Sunday pages from 1936 for us to digitize. This era of Polly And Her Pals has never been reprinted, so these delicate originals are particularly important. These oversize sheets are twice as large as the platen on our scanner, so we have to scan them in two passes and splice them together in Photoshop. With the high resolutions we're scanning art at, it takes over an hour to digitize each Sunday page. But I think you'll agree that it's well worth it.
January 5, 1936
Here are a couple of prime Sterrett Sundays provided by my best pal, JoJo Baptista…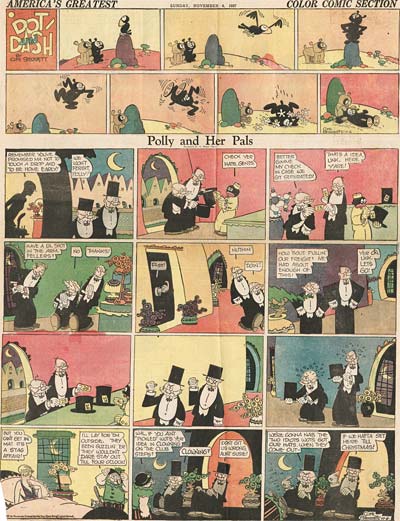 November 6th, 1927
April 8th, 1928
There's an easter egg in this last one… do a google image search for the name hidden in this comic and see what Sterrett was looking at when he created this strip!

If you enjoyed these strips, you owe it to yourself to splurge and get one of the finest books on newspaper comics ever published. This oversize volume is beautifully printed and packed with hundreds of great Polly Sunday pages. Order it now from Amazon…
For another example of Cliff Sterrett's genius, see Michael Sporn's Splog, and make sure to read Rick Marschall's great comment adding more details to the story below.
Stephen Worth
Director
Animation Resources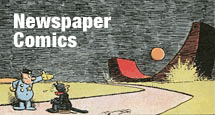 This posting is part of the online Encyclopedia of Cartooning under the subject heading, Newspaper Comics.













by

Comments