Every other month, members of Animation Resources are given access to an exclusive Members Only Reference Pack. In May 2016, they were able to download Volume 2 of the classic Zim Cartooning Course. Our Reference Packs change every two months, so if you weren't a member back then, you missed out on it. But you can still buy a copy of this great e-book in our E-Book and Video Store. Our downloadable PDF files are packed with high resolution images on a variety of educational subjects, and we also offer rare animated cartoons from the collection of Animation Resources as downloadable DVD quality video files. If you aren't a member yet, please consider JOINING ANIMATION RESOURCES. It's well worth it.
---
---
Animation Resources is proud to present exclusively to our membership the first of four volumes of Eugene Zimmerman's landmark correspondence course in cartooning as a 200 page high resolution e-book. Members, to download a copy, login to the Members Only Download Page. This download will only be available during the months of May and June 2015 and might never be available again.
If you have not joined Animation Resources yet, see the Membership Signup Page. Over the next year, Animation Resources members will be receiving the entire Zim course, consisting of four volumes and nearly 1000 pages packed with incredible drawings and creative advice!
A couple of years ago ago, I stumbled across a "how to" book on cartooning by Eugene "Zim" Zimmerman. It was titled Zim's Cartoons & Caricatures, Or Making The World Laugh. I happened to be speaking on the phone to Ralph Bakshi, and I mentioned the book. "Ooooohh! So you've discovered ZIM now! He's one of my secrets…"
In 1967, right after he had resigned as the head of the Paramount cartoon studio, Ralph and his wife Liz were walking through Brooklyn when they saw a sign on an old house advertising an estate sale. They went inside, but it was late in the day and there wasn't much left. Ralph glanced up at a tall bookcase and saw a pile of pamphlets stacked up on a high shelf. It was too high to reach, so he didn't bother to look at them. As they were walking out the door, he got the feeling that he needed to go back and look at the pamphlets. It was a good hunch. The stack contained a nearly complete set of Zim's correspondence course in cartooning. He asked the estate agent how much they cost, and was told $50. That was more than he and his wife had in their pockets, so Liz volunteered to run home and get the money. The Zim books were on his desk every day throughout the production of Fritz the Cat, Heavy Traffic and especially Coonskin. This set is Ralph's most prized possession, and now he is sharing them with Animation Resources.
Zim's correspondence course was the most highly regarded cartooning course of its day. Spanning 20 volumes, it covered a wide range of subjects, from practical homespun advice to lofty philosophy. Here are some examples of Zim's genius from the pages of the four volumes we completed digitizing today…
The course was published in two different editions… 1914 and 1920. We have been able to find an earlier edition of the course to supplement and complete Ralph Bakshi's set. There are no chapters or specific assignments. The books consist of page after page of individual nuggets of wisdom. Each book and each page stands on its own.
Ralph also helped Animation Resources obtain vintage copies of the magazine Judge's Library containing dozens of full page color examples of Zim's work. These have been included in our exclusive online e-books.
Zim's course is much more than just a "how to draw" course. In short anecdotal paragraphs, Zim succeeds in conveying what it means to be a cartoonist… the history behind the artform… how to deal with everyday problems and setbacks… and how to live the life of an artist.
Zim was the founder of the "grotesque" school of caricature, which formed the basis of what we now call "cartoony drawing". He provides lots of examples of caricatures drawn from life, with photos of his subjects alongside his caricature of the person.
---
---
There's plenty of traditional drawing lessons too. Zim's masterful expressive line fills every page with perfect examples of the principles he is discussing.
The book is full of amusing observation. Just look at the shoes and the way the clothing hangs on these bums. Zim is able to pack personality into every detail of the character.
If you aren't convinced yet that Zim is a drop dead genius, just click on this image!
The most impressive illustrations in the course are the examples of Zim's rough sketches. He had an uncanny knack for being able to express every nuance of his subject with a free flowing and loose pencil technique.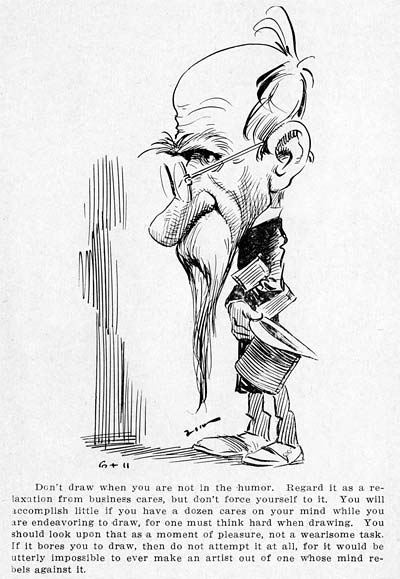 He was capable of extreme exaggeration that captured the essence of the unique qualities of the personalities he chose to caricature.
But the most amazing thing about Zim's artistry was his ability to draw the viewer into his world and make them feel the way the characters in the drawings feel. Wouldn't you love to live in a cartoony world like this? You can, and Zim can teach you to THINK like a cartoonist.
---
---
Not A Member Yet? Want A Free Sample?
Check out this SAMPLE REFERENCE PACK! It will give you a taste of what Animation Resources members get to download every other month!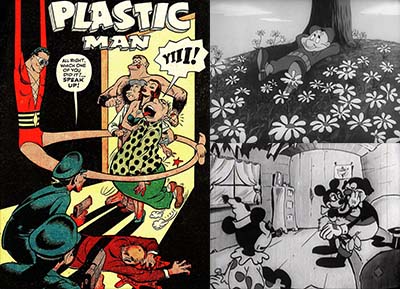 ---
JOIN TODAY To Access Members Only Content
---
This posting is part of a series of articles comprising an online exhibit devoted to Eugene "Zim" Zimmerman.













by

Comments