Animation Resources supporter, Rich Borowy stopped by to digitize some classic Stan Freberg radio shows for the archive database yesterday. Under his arm was a box of old Coronet and Omnibook magazines. Rich said that he was given the box at a garage sale that was closing down. I've never looked at these particular magazines, but they have wonderful illustrations and features. Here are highlights from the December, 1945 issue. Check it out. There's a big surprise at the end. Thanks for bringing these in, Rich!
Each issue opens with an inspirational message and illustration. This one is by illustrator, Vera Bock. Many issues contain the work of Arthur Szyk, whose book "The New Order" we featured last year. I'll be doing a whole post of Szyk illustrations from Coronet soon.
Next up is a retelling of "The Night Before Christmas" by Golden Book illustrator, Sheilah Beckett. Will Finn recently posted about her book on Gilbert & Sullivan Operettas. These pages strongly resemble the back of Little Golden Books. Do you think Sheilah Beckett designed that?
Here's a feature on the artists who created the Famous Artists Course… Stevan Dohanos, along with his illustrator friends Albert Dorne, Ben Stahl, Hardie Gramatky, Fred Ludekens and Dean Cornwall donated their services to decorate casts in the Halloran Army Hospital in New York.
And here's a feature on exotic superstitions and religious beliefs by Stevan Dohanos…
Here's a real surprise- The autobiography of Bugs Bunny! "A Hare Grows In Manhattan"…
Stephen Worth
Director
Animation Resources
This posting is part of a series of articles comprising an online exhibit spotlighting Illustration.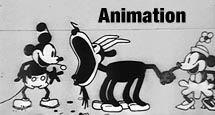 This posting is part of the online Encyclopedia of Cartooning under the subject heading, Animation.













by

Comments