People who aren't members of Animation Resources don't understand how comprehensive our Reference Packs are. Over a couple of weeks, we are posting what each section of our current RefPack looks like. Today we are sharing the Early Anime section. If you are a member of Animation Resources, click on this post to go to the Members Only page. If you aren't a member yet, today is the perfect time to join! Our current Reference Pack is one of our best yet, and General and Student Members get access to a special Bonus Archive with even more material from past Reference Packs.
What are you waiting for?



JOIN TODAY!
https://animationresources.org/membership/levels/
---
JOIN TODAY To Access Members Only Content
---

Lately, Animation Resources board member JoJo Baptista has been researching the early history of Japanese animation. He has searched out video copies of 1960s anime to add to our Animation Archive. Over the past year, he has accumulated hundreds of hours of rare television programs. We will be will be sharing some of them with you in our Reference Packs. Our members have asked us to share complete films and publications with them, not excerpts, so we will be sharing complete half hour episodes with you. We don't claim that everything here is great. But there are great bits. You can sift through them and discover the gems for yourself.
Hajime Ningen Gyatorz



Curated by JoJo Baptista



Ep.36 / Ep.44 (1975)
Download this article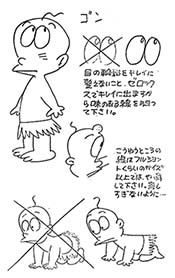 First Human Giatrus is an anime series from 1974, based on the manga by Shunji Sonoyama. The series follows the misadventures of a cave dwelling family set in the stone age. There's Gon, the son, his father and mother (who usually has several babies and a raccoon strapped to her back) and his friend Dotechin, a gorilla. Sonoyama had a background in doing newspaper strips, and the animation studio behind the anime (Tokyo Movie) did their best to keep his style intact. There's a note in the style guide to not draw the characters volumetrically, but rather in Sonoyama's flat style. Lots of funny designs are to be found in this series, along with some simple but effective staging as well.
Episode 36A features some hilarious and recognizably snappy animation, by animator Yoshiyuke Momose—I've written about his work in Gutsy Frog before. At 7:15 Gon and another boy are being chased around by a saber tooth tiger on a rotating star. Then around 7:35 Gon calls out to Dotechin for help as the other boy hangs onto Gon from the edge of the star. Dotechin breaks the star into several pieces while trying to dodge the tiger himself, showing off some fun poses in the process.
44B has a short but great fight between a giant ape and a dragon (maybe it's a pterodactyl?) It breaks some of the "rules" of the established style, but definitely to the show's benefit. This isn't a criticism whatsoever. It's not a complete departure from the usual style at all, as the sequence manages to find a good balance between its usual flat style and the newly introduced volumetric parts. There are several shots making use of dynamic perspective to show off the scale of the two monsters fighting which are really nice as well. I'm not a fan of the slow truck out at around 20:35 though. It really takes you out of the fight, but maybe it was done for budgetary reasons. Be on the lookout for some stylish layouts sprinkled throughout this episode as well!
I'll have more early Japanese TV series to share with you in our next Reference Pack.
REFPACK048: First Human ep36

MP4 Video File / SD / 24:59 / 283 MB Download
REFPACK048: First Human ep44

MP4 Video File / SD / 24:58 / 354 MB Download
---
JOIN TODAY To Access Members Only Content
---
Animation Resources is one of the best kept secrets in the world of cartooning. Every month, we sponsor a program of interest to artists, and every other month, we share a book and up to an hour of rare animation with our members. If you are a creative person interested in the fields of animation, cartooning or illustration, you should be a member of Animation Resources!
It's easy to join Animation Resources. Just click on this link and you can sign up right now online…
---
JOIN TODAY!
https://animationresources.org/membership/levels/
---


Animation Resources depends on your contributions to support its projects. Even if you can't afford to join our group right now, please click the button below to donate whatever you can afford using PayPal.












by

Comments