---
REFPACK 013

November-December 2016
---
MEMBERS LOGIN To Download Video
JOIN TODAY To Access Members Only Content
Every other month, members of Animation Resources are given access to an exclusive Members Only Reference Pack. These downloadable files are high resolution e-books on a variety of educational subjects and rare cartoons from the collection of Animation Resources in DVD quality. Our current Reference Pack has just been released. If you are a member, click through the link to access the MEMBERS ONLY DOWNLOAD PAGE. If you aren't a member yet, please JOIN ANIMATION RESOURCES. It's well worth it.
DVD QUALITY VIDEO: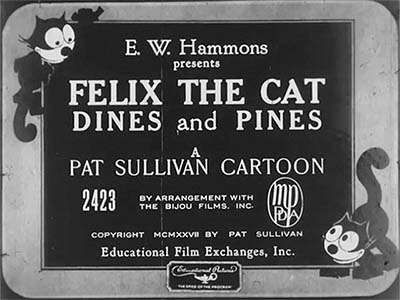 Two Silent Felix The Cat Shorts



"Felix Dines And Pines" (1927) "Feline Follies" (1919)
Felix the Cat was the most famous cartoon character of the silent era, and his popularity remains strong to this day. Messmer related the details of Felix's creation in 1919 to animation historian John Canemaker like this…
Sullivan's studio was very busy, and Paramount, they were falling behind their schedule and they needed one extra to fill in. And Sullivan, being very busy, said, "If you want to do it on the side, you can do any little thing to satisfy them." So I figured a cat would be about the simplest. Make him all black, you know—you wouldn't need to worry about outlines. And one gag after the other, you know? Cute. And they all got laughs. So Paramount liked it so they ordered a series.
Feline Follies was the first Felix the Cat cartoon. Originally named Thomas, the cat was eventually renamed Felix on the suggestion of a Paramount executive because the name suggested the words "felis", the Latin word for cat and "felix" meaning "lucky". By the time Felix Dines And Pines was produced in 1927, Felix's star was on the wane. But the cartoons remained innovative, incorporating wild surrealism and sophisticated personality animation to tell its stories.
Animation Resources Advisory Board Member, Steve Stanchfield has done considerable research on Felix the Cat's filmography and he shares these rare transfers from 35mm original prints with us. Even though the nitrate is deteriorating, they give a clear indication of why Felix is still the World's Most Famous Cat.
REFPACK015: Two Felix The Cat Shorts



MP4 Video File / 11:43 / 214 MB Download

---
MEMBERS LOGIN To Download Video
JOIN TODAY To Access Members Only Content
---
---
MEMBERS LOGIN To Download Video
JOIN TODAY To Access Members Only Content
---
Not A Member Yet? Want A Free Sample?
Check out this SAMPLE REFERENCE PACK! It will give you a taste of what Animation Resources members get to download every other month!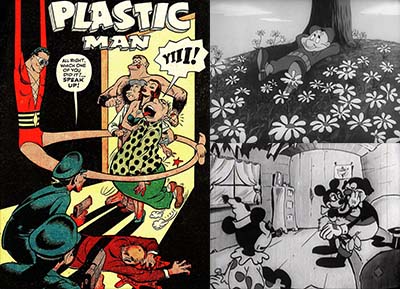 by

Comments