REFPACK 031

Members Only Download
Every other month, members of Animation Resources are given access to an exclusive Members Only Reference Pack. These downloadable files are high resolution e-books on a variety of educational subjects and rare cartoons from the collection of Animation Resources in DVD quality. Our current Reference Pack has just been released. If you are a member, click through the link to access the MEMBERS ONLY DOWNLOAD PAGE. If you aren't a member yet, please JOIN ANIMATION RESOURCES. It's well worth it.
---
MEMBERS LOGIN To Download E-Book
JOIN TODAY To Access Members Only Content
---
Eulenspiegel Volume One



July 1st to November 2nd, 1963
After the Second World War, satirical caricature magazines experienced a rapid decline. The general public in the post-war years wasn't as receptive to radical politics and muckraking as they were before the war. One by one, satirical magazines around the world were replaced by illustrated current events magazines like Life, Look, The Illustrated London News and L'Illustration (see our previous e-book on the L'Illustration Christmas annuals for information on the rise of photo magazines.) Political cartooning migrated to the editorial page in the newspaper, and humor cartooning in magazines focused on social subjects in single panel gag cartoons. Harvey Kurtzman created Mad as a comic book, but soon the comic shifted to the satirical magazine format. Instead of lampooning political figures and Kings like the satirical magazines of the past, Mad Magazine made fun of TV stars and suburban lifestyles.
However, behind the Iron Curtain, satirical magazines didn't disappear after World War II, in fact, they flourished for a time. Chief among these magazines was Krokodil. It was launched a few years after the Russian Revolution. Political satire in the Soviet Union was a dangerous thing, but Krokodil was given a wide berth to lampoon the inefficiency and lack of initiative of mid level bureaucrats and the sloppiness of labor workers.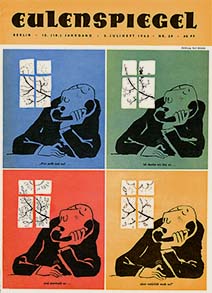 Frischer Wind (Fresh Breeze) was one of the last satirical caricature magazines to be established, beginning in 1946. It was the only humor magazine in East Germany, and it was retitled after the legendary prankster Eulenspiegel in 1954. Only three East German magazines survived after the Berlin Wall fell, and Eulenspiegel was one of them. It continues to be published to this day. Punch ceased publication in 1991 after more than a century and a half in print, Krokodil closed its doors in 2008, Mad Magazine recently announced that they were ending their print magazine. It may well be that Eulenspiegel is the last of the classic satirical humor magazines still in circulation.
We know very little about the artists who drew for Eulenspiegel. If you have any information on them, please let us know so we can add it to our database. Animation Resources was fortunate to Find a batch of these rarely seen magazines in a bookshop in Hungary and had
them shipped to us in the United States for digitization. We hope you find them useful.
REFPACK031: Eulsenspiegel Volume One

Adobe PDF File / 142 Pages / 734 MB Download

---
MEMBERS LOGIN To Download E-Book
JOIN TODAY To Access Members Only Content
---
---
MEMBERS LOGIN To Download E-Book
JOIN TODAY To Access Members Only Content
---
Not A Member Yet? Want A Free Sample?
Check out this SAMPLE REFERENCE PACK! It will give you a taste of what Animation Resources members get to download every other month!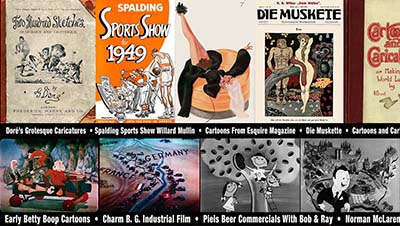 by

Comments