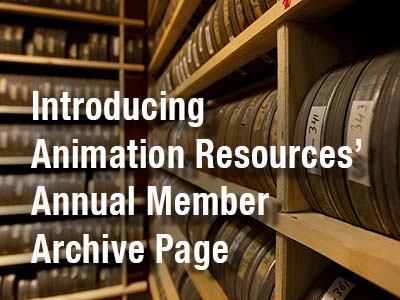 ATTN: GENERAL & STUDENT MEMBERS!
February is Members Appreciation Month. It's the time of year when we thank our steadfast members for their continued support of this project, and encourage new people to join us. This year, we are thanking our annual members with a NEW download page… an archive where we will re-upload complete Reference Packs from past years. To start it out with a bang, during the month of February, we will be rerunning the entire "Zim Course in Cartooning, Comic Art & Caricature"… that's four volumes totaling 700 pages! After February, we will be sharing at least three complete past Reference Packs a year on the Annual Member Archive Page. From here on out, General and Student Members will have access to NINE RefPacks a year! But that's not all, we will be archiving our older podcasts here as well, including all the supplemental e-books and videos that go with them!
Our Quarterly Members will still receive our bi-monthly Reference Packs like usual. But if you are a Quarterly Member, we think you might want to consider switching your account to a General Membership to take advantage of this new archive. If you still have time remaining in your Quarterly Membership, just let us know that you want to switch to an annual membership and after you upgrade we will credit your login with the additional time. Just drop a line to membership@animationresources.org and let us know you would like to upgrade your account.
More members mean we can share more content on our download pages. Encourage your friends and co-workers to join Animation Resources. Every penny of the dues goes to sharing more treasures with you. Remember, Reference Packs aren't on the page forever. They change every two months. Download the current one now before it expires off the page!
---
If you are an annual member (General or Student)…


Login To The Bonus Archive Page
If you aren't a member yet…



JOIN Animation Resources Now!

---
Here is a sneak peek at what the Annual Members Bonus Archive Page looks like. If you join today, you'll be able to access all these amazing resources, and have access to our current RefPack as well.

As a special thank you to our annual General and Student members, we have created a special page where we will archive past Reference Packs. There will be at least three reruns of complete RefPacks per year.
Below are the links to the current Bonus Reference Pack. To download the files, RIGHT CLICK on the link (Mac users CONTROL CLICK) and select SAVE LINKED FILE TO DISK. We are delivering high resolution files to you. When you click, it might take several minutes to finish the download, so please be patient. If the link doesn't work, refresh this page and try again. It's best to download the files one at a time, rather than all at once. This will avoid timeouts.
---

Problems or questions? Email…

membership@animationresources.org
---
PLEASE NOTE: This material may be protected by copyright and is provided to supporters of Animation Resources under Fair Use provisions for critical analysis, educational and reference purposes only. Permission to copy and print is granted for personal use only and these files are not to be distributed or shared with others. All rights reserved. After the period of availability, these files will be deleted from the server and may never be offered again. Downloading of this material constitutes agreement to these terms.

Three times a year, Animation Resources shares a new Bonus Reference Pack with its Annual Members. They consist of an e-book packed with high resolution scans and video downloads set up for still frame study. Make sure you download this Reference Pack before it's updated. When it's gone, it's gone!

---
REFPACK014: January / February 2017
---
Members Appreciation Month Special:



The Complete Zim Course
Animation Resources appreciates its members. To recognize our indebtedness to the people who support our work, we are re-running the entire Zim Course in Cartooning and Caricature. Download these four e-books and enjoy over 700 pages of tips and advice by one of the greatest cartoonists who ever lived— Eugene "Zim" Zimmerman. Thank you for your support of Animation Resources. Our members make everything we do possible!
Download this article
PDF E-BOOK: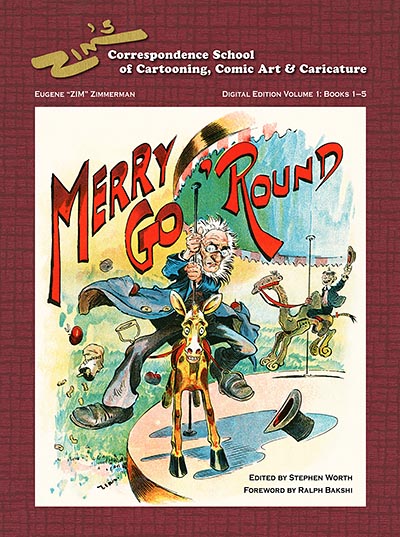 Eugene "Zim" Zimmerman



Zim's Correspondence School of Cartooning, Comic Art & Caricature Volume 1: Books 1 to 5 (1914/1920)
Zim's Correspondence School of Cartooning, Comic Art and Caricature consists of twenty 32-page books packed with artwork, practical advice, homespun philosophy and plain old horse sense. Every month a new book would arrive in the mail, and the student would be responsible for arranging to ship their completed assignments to Horseheads, NY where Zim would review and critique them for a small fee. These books are among the rarest and most sought after cartooning instruction books in existence.
This PDF e-book contains the first five lesson books compiled from both the 1914 and 1920 editions of the Zim course, and includes a foreword by Ralph Bakshi and an introduction by Stephen Worth. The lesson books are supplemented with full page color illustrations by Zim taken from issues of Judge's Library magazines from the 1890s. This PDF e-book is optimized for display on the iPad or printing two up with a cover on 8 1/2 by 11 inch paper.
BONUS: Zim Cartooning Course Vol. 1

Adobe PDF File / 200 Pages / 408.2 MB Download
PDF E-BOOK: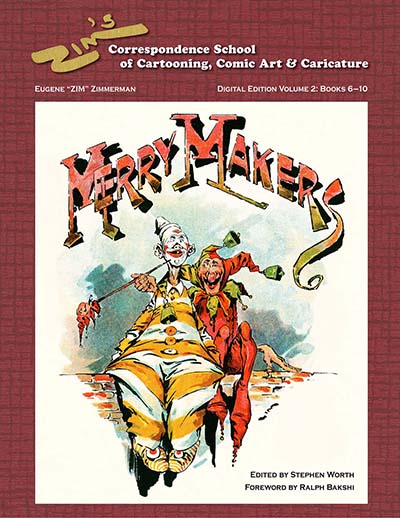 Eugene "Zim" Zimmerman



Zim's Correspondence School of Cartooning, Comic Art & Caricature Volume 2: Books 6 to 10 (1914/1920)
A few years back, I stumbled across a "how to" book on cartooning by Eugene "Zim" Zimmerman. I happened to be speaking on the phone to Ralph Bakshi, and I mentioned the book. "Oooooohhh! So you've discovered ZIM now! He's one of my secrets…"
In 1967, right after he had resigned as the head of the Paramount cartoon studio, Ralph and his wife Liz were walking through Brooklyn when they saw a sign on an old house advertising an estate sale. They went inside, but it was late in the day and there wasn't much left. Ralph glanced up at a tall bookcase and saw a pile of pamphlets stacked up on a high shelf. It was too high to reach, so he didn't bother to look at them. As they were walking out the door, he got the feeling that he needed to go back and look at the pamphlets. It was a good hunch. The stack contained a nearly complete set of Zim's correspondence course in cartooning. He asked the estate agent how much they cost, and was told $50. That was more than he and his wife had in their pockets, so Liz volunteered to run home and get the money. The Zim books were on Ralph's desk every day throughout the production of Fritz the Cat, Heavy Traffic and especially Coonskin. This set is Ralph's most prized possession, and now he is sharing them with Animation Resources.
Zim's course is much more than just a "how to draw" course. In short anecdotal paragraphs, Zim succeeds in conveying what it means to be a cartoonist… the history behind the artform… how to deal with everyday problems and setbacks… and how to live the life of an artist.
Animation Resources restored and published Ralph's 1914 Zim course, along with updates made to the course in 1920, as a series of four downloadable high resolution e-books. This PDF e-book is the second in the series, and is optimized for display on the iPad or printing two up with a cover on 8 1/2 by 11 inch paper.
BONUS: Zim Cartooning Course Vol. 2

Adobe PDF File / 198 Pages / 427 MB Download
PDF E-BOOK: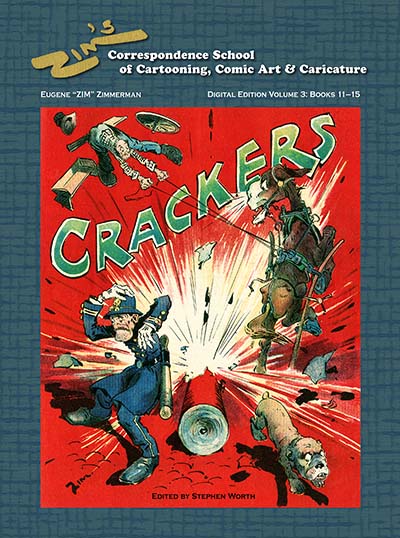 Eugene "Zim" Zimmerman



Zim's Correspondence School of Cartooning, Comic Art & Caricature Volume 3: Books 11 to 15 (1914/1920)
As the decades have rolled on since Zim's passing in 1935, he has come to be routinely omitted from accounts of the history of cartooning. Although Thomas Nast, T. S. Sullivant, Frederick Burr Opper, Richard Outcault and James Montgomery Flagg are frequently mentioned in histories of cartooning and illustration, Zim's name is conspicuous by its absence. When he is mentioned at all by historians, it is in reference to the "political incorrectness" of his humor. But Zim's legacy is more important than history gives him credit for. His contribution to American culture is both historical and artistic.
During the last decades of the 19th century, America was a land being built by poor, hard-working immigrants. Zim was one of them. He took caricature out of the drawing room and into the streets. When Zim entered the business, cartooning existed to glorify (or more often, defame) famous American political leaders. Zim took caricature further, poking fun at the real Americans of the day— the people he saw in the streets of the Italian, Jewish, Black and Irish districts of New York City.
These precious drawings are a priceless window into the past. More than a hundred years later, we are fortunate to be able to see the world of the 1890s through Zim's observant eyes. Zim's fondness for the common man is apparent in every line that flowed from his pen. He didn't just achieve his boyhood goal of becoming American through and through; utilizing the art of caricature, he vividly documented the day-to-day reality of millions of others Americans just like him.
Animation Resources is proud to present our third volume from the Zim course as a downloadable high resolution e-book. This PDF e-book is optimized for display on the iPad or printing two up with a cover on 8 1/2 by 11 inch paper.
BONUS: Zim Cartooning Course Vol. 3

Adobe PDF File / 212 Pages / 455 MB Download
PDF E-BOOK: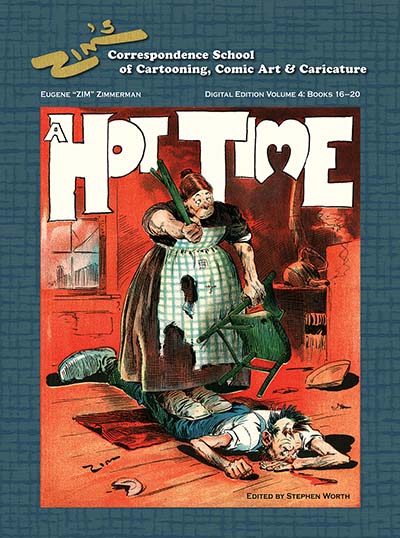 Eugene "Zim" Zimmerman



Zim's Correspondence School of Cartooning, Comic Art & Caricature Volume 4: Books 16 to 20 (1914/1920)
Eugene Zimmerman, better known simply as "Zim" was one of cartooning's most important figures, but he is rarely mentioned in current histories of the medium. This is unfortunate, because Zim wasn't just a great caricaturist and cartoonist, he was a great educator as well.
The "Zim Correspondence School of Comic Art and Caricature" packs a lifetime of experience into twenty small booklets. There are no chapters or formal lessons, just common-sense advice and lots and lots of brilliant drawings. Zim teaches his students the same way he learned his trade, one step at a time. Each page is a self-contained bit of sagely advice, intended to be studied a page or two a day. As readers work their way though the course over the span of a year, the information accumulates, gradually transforming them from a talented amateur to a seasoned professional artist. No one was more qualified to teach students how to think like an artist than Eugene Zimmerman.
Zim first published his cartooning course in 1914 and revised it in 1920. We have compiled all of the information from both editions into four e-books for our membership. Along with the course, we have included full page color cartoons by Zim from the pages of Judge magazine. We are proud to have been able to bring the entire Zim Cartooning Course to you as downloadable high resolution e-books. This PDF e-book is optimized for display on the iPad or printing two up with a cover on 8 1/2 by 11 inch paper.
BONUS: Zim's Cartooning Course Volume 4

Adobe PDF File / 198 Pages / 198 MB Download

Animation Resources has embarked on a podcasting series with informal screenings, interviews and seminars. We are sharing this archive of past episodes that have expired off the Members Only Page with our annual members as a thank you for your support.
PDF E-BOOK / HD VIDEO / PODCAST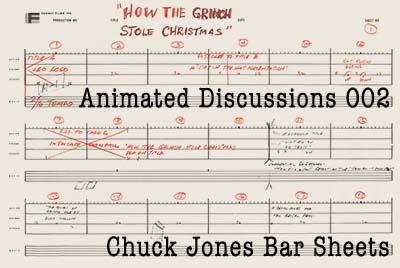 Chuck Jones Bar Sheets



"How The Grinch Stole Christmas" (1966)

Animation Resources is proud to share with its members our most ambitious project to date— a podcast detailing the timing techniques used to make the Chuck Jones television special "How The Grinch Stole Christmas". Chuck Jones was a master at controlling the pacing of the action for every single frame of his films. The method of timing cartoons in the golden age of animation is nothing like the way it is done today. We think you will learn a lot from this research, and perhaps discover some techniques to improve the timing of your own projects. Animation Resources would like to thank Doug Ward and the family of Dan McLaughlin for sharing this important set of documents with us.
CLICK To Listen To The Podcast Now:


MP3 Audio File / 58:13 / 70 MB Download

CLICK To View The Supplementary Files:

E-Book: Chuck Jones Bar Sheets

Adobe PDF File / 74 Pages / 555 MB Download

Video: Grinch Timing

MP4 Video File / HD Widescreen / 25:55 / 1.19 GB Download
SD VIDEO / PODCAST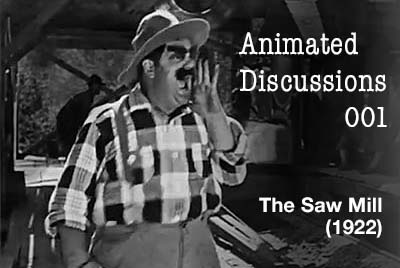 The Saw Mill



Larry Semon / 1922
Golden age animators studied silent films to learn staging, posing, timing and comic action from the masters of slapstick comedy. Animation Resources Vice President, Taber Dunipace is joined by Stephen Worth in an "Animated Discussion" analyzing Larry Semon's "The Saw Mill" (1922).
CLICK To Listen To The Podcast Now:

AD001: The Saw Mill

MP3 File / 48:02 / 74 MB Download
CLICK To Download The Video Being Discussed:

Film: The Saw Mill (1922)

M4V File / SD / 25:18 / 249 MB Download
---
Previous Podcasts
VIDEO SEMINAR 001: BG Layouts By Nestor Redondo
Aired 07/21/17 / YouTube / 720p HD / 2:00:00

ANIMATION INTERVIEW 001: Andrew Chesworth
Aired 06/19/17 / MP4 Video File / SD / 58:46 / 1.2 GB Download

LESSON 001: Warming Up Exercises
https://animationresources.org/art-education-warming/
Aired 08/27/16 / MP4 Video File / 1:05:36 / 1.3 GB Download

ARCHIVE 001: About Our Archive Database
Aired 10/11/16 / YouTube / 22:16

BOOK LOOK 001: Taschen's Disney Film Archive
Posted October 14, 2016 / YouTube / 31:06
You can order a copy of this great book for yourself at Amazon.com.
---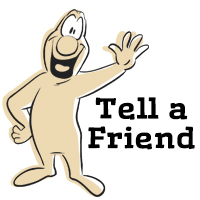 Tell your friends to join Animation Resources!



More members mean we can bring you more special downloads.


Problems or Questions?



Email…
membership@animationresources.org
Thank you very much for your support. We greatly appreciate it.
The Animation Resources Board of Directors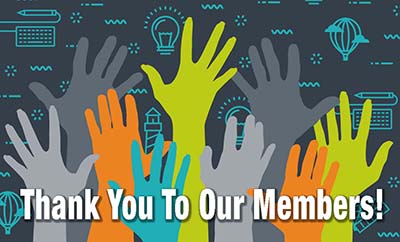 It's Members Appreciation Time again at Animation Resources, and for the next 30 days we will be sharing reasons why you should be a member of our important project. For more information on the benefits of membership, see the Member Appreciation Page. It's easy to join. Just click on this link and you can sign up right now online…
---
JOIN TODAY!
https://animationresources.org/membership/levels/
---


Animation Resources depends on your contributions to support its projects. Even if you can't afford to join our group right now, please click the button below to donate whatever you can afford using PayPal.












by

Comments