Eugene "Zim" Zimmerman was born in 1862 in Switzerland, and his family emigrated to the United States when he was seven. As a poor immigrant, Zim witnessed the "melting pot" of American culture first hand. His depictions of ethnic minorities were pointed, but honest and well observed. Although he is pretty much forgotten today, he was very well known in his time, and his humor captured the essence of turn-of-the-century America.
Zim was the founder of the so-called "Grotesque" school of caricature, and was the first caricaturist to incorporate exaggerated cartooniness not only in the faces of his subjects, but in the bodies as well. Zim worked for Puck and Judge, the two top humor magazines of their day. Along with caricatures by George McManus and Frederick Burr Opper, Zim's caricature of a moon faced grinning kid (an example of which appears on page 3 of this book) was said to be one of the earliest inspirations for Mad magazine's mascot character, Alfred E. Neuman.
Zim was a prolific artist, with more than 40,000 illustrations published in his lifetime. He retired from Judge in 1897 and founded the American Association of Cartoonists and Caricaturists. He was also a writer and teacher. His columns ran in Cartoons magazine during the early years of the century, as did ads for his correspondence course in cartooning.
Animation Resources supporter Marc Schirmeister has been searching high and low for a copy of Zim's early educational materials with no luck. But recently this 1910 book, packed with tips for the aspiring cartoonist, turned up in a used bookstore in Arizona…
It's worth noting that the price tag on the cover is an important clue to the value of these lessons to contemporary artists. According to the Consumer Price Index, $5 in 1910 is equivalent to $116 today. Five dollars represented a full day's labor to many of the cartoonists who bought this book. Zim's name in gold letters on the cover was the selling point that made so many aspiring cartoonists part with the "five plunks (in real Money)" as Zim so colorfully puts it in his introduction.
These 100 pages are packed with great cartoons, helpful drawing tips, technical information and business advice for the aspiring cartoonist. Most importantly, Zim passes along his unique philosophy of life, and offers a shining example of how an artistic career as a caricaturist can be incorporated into a person's lifestyle. At the time this book was written, Zim had thirty years of experience under his belt, and had attained the highest level in his field.
Here are just a few choice snippets from this great book…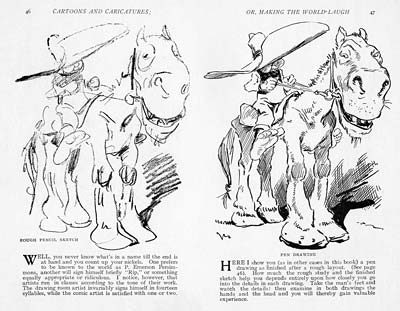 Guess who?
If you are a fan of caricature, check out Will Finn's latest post and the blog of my favorite caricaturist, Marlo Meekins.
Stephen Worth
Director
Animation Resources
This posting is part of a series of articles comprising an online exhibit devoted to Eugene "Zim" Zimmerman.













by

Comments