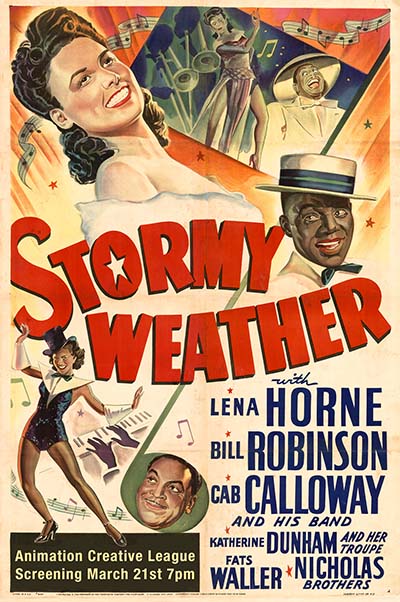 The animated cartoon is the SECOND greatest American artistic innovation of the 20th century… the greatest was JAZZ.
JAZZ
A Screening Hosted By The Animation Creative League
All welcome. Members: Free / Mon-Members $5 Donation
Saturday March 21st, 2015 7:00 pm
Animation Resources Screening Room, Pacoima CA
JAZZ Screening Facebook Info Page
Cab Calloway
ABOUT THE PROGRAM
The histories of Animation and Jazz have been intertwined since the early days. Cab Calloway and Louis Armstrong made appearances in Betty Boop cartoons, Benny Goodman provided the soundtrack for Disney's "Make Mine Music", and Jack Teagarden was the "Slip Horn King of Polaroo" at Lantz. Many animators were Jazz fans too. Ward Kimball organized a Dixieland Jazz band named "The Firehouse Five", Clampett was a regular customer at the Central Avenue Jazz clubs in Los Angeles, and Grim Natwick was friends with W.C. Handy and provided the cover illustration for the sheet music for the immortal Jazz standard "St. Louis Blues". The rhythm and syncopation of Jazz flowed like life's blood through the cartoons of the golden age of animation.
On Saturday March 21st, Animation Resources' Creative League will host a very important screening of Jazz films, all in brand new high definition restorations off the original film elements. Duke Ellington, Benny Goodman, Cab Calloway, Louis Armstrong, Gene Krupa, Fats Waller… the program will be a "Who's Who" of the giants of Jazz. In addition to screening a pristine print of the landmark musical "Stormy Weather" starring Lena Horne, Bill "Bojangles" Robinson and the Nicholas Brothers, we will be treated to several rare musical short subjects from the 1930s, newly restored by The Library of Congress.
Seating is limited, so reserve your seats early because this screening is sure to sell out.
Louis Armstrong
RSVP INFORMATION
This very special event will be held at 7:00pm on March 21st. Our screening room is located in Pacoima, CA. The Animation Creative League events are by invitation only. There is no charge for members (and a guest), but a $5 donation is requested from non-members. You are encouraged to contribute snacks and drinks.
To request an invite, please email YOUR NAME, YOUR PHONE NUMBER and THE NUMBER OF GUESTS to Taber Dunnipace at…
tdunipace@animationresources.org
PLEASE NOTE: IF YOU PLAN TO ATTEND, YOU MUST RSVP BY EMAIL. FACEBOOK RSVPs ARE NOT VALID.
If you can bring refreshments, please do. Confirmations will go out well in advance of the screening. Space is limited. Please do not RSVP unless you plan to attend, and make sure you let us know if you can't make it so we can offer your seat to another person. See you at the screening!
Duke Ellington
About Animation Creative League












by