Carlo Vinci and Connie Rasinski
Bill Weiss, Paul Terry, unknown, Larry Silverman, Carlo Vinci
Recently, the family of the legendary animator, Carlo Vinci lent us two 8mm films to transfer for the archive. I'll post about the other one soon, but today I have a special treat for you… a color film outlining the animation production process from Terrytoons in 1939!
Here are frame grabs of most of the people appearing in this short. If you can identify anyone, please let us know in the comments below.
Animator Carlo Vinci
Story Man Larry Silverman
Story Man Tommy Morrison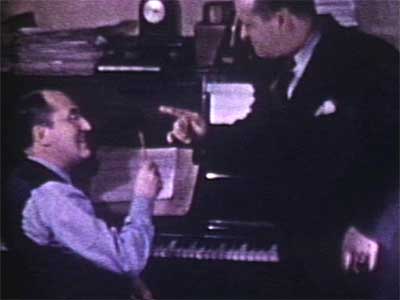 Music Director Phil Scheib and Director Connie Rasinski
Animator Jim Whipp and his assistant
Makin' Em Move (Terry/1939)
(Quicktime 7 / 30.7 megs)
Here is the cartoon we see the artists working on in this film…
Harvest Time (Terry/1940)
(Quicktime 7 / 13.8 megs)
Mike Fontanelli shares this great collection of Terry-Toons lobby cards with us…
Stephen Worth
Director
Animation Resources

This posting is part of the online Encyclopedia of Cartooning under the subject heading, Animation.













by