Alfred Gerald Caplin (aka Al Capp) was born September 28, 1909 in New Haven, CT. He was best known as the creator of the classic comic strip Li'l Abner. At the age of 9, he jumped off the back of an ice wagon directly into the path of an oncoming streetcar. As a result of the accident, he had to have his leg amputated below the hip. This childhood tragedy likely helped shape Capp's cynical worldview, which, funny as it was, was certainly darker and more sardonic than that of the average newspaper cartoonist. Capp wore a prosthetic leg.  Rather than hide the fact, he openly joked about it all his life.


Capp began his career in comics as an assistant to Joe Palooka cartoonist Ham Fisher. The relationship soon soured, and Capp launched his own strip, Li'l Abner in August, 1934. What began as a simple hillbilly burlesque soon evolved into a masterpiece of satirical fiction, renowned for its vivid characters and top notch draftsmanship. The outlandish storylines and biting social commentary make Li'l Abner unique among newspaper comics of the day.
The strip featured the adventures of Abner Yokum, a loutish, stupid, but good-natured hayseed who lived in Dogpatch, KY with his scrawny but superhuman Mammy, and shiftless, childlike Pappy. Abner was always in the marital crosshairs of Daisy Mae Scragg, his sexy, well-endowed but virtuous (to a point)  girlfriend. In 1952, Daisy Mae achieved her goal and the couple was married in the strip with great fanfare. This event was considered newsworthy enough to be featured on the cover of Life magazine.

Capp peopled his comic strip with an assortment of wonderful personalities, including Marryin' Sam, Joe Btfsplk, Lena the Hyena, Hairless Joe, Lonesome Polecat, Evil-Eye Fleegle, General Bullmoose, and a host of others. Most notably, certainly from a G.I. standpoint, were the beautiful, full-figured women like Wolf Gal, Stupefyin' Jones and Moonbeam McSwine- all of whom found their way onto the painted noses of fighter planes during WWII. Perhaps Capp's most popular creations were the Shmoos, gourd-shaped creatures whose incredible usefulness and generous nature made them a threat to civilization as we know it.


Throughout his life, Capp volunteered his time to hospitals, entertaining patients, especially to fellow amputees. He set an example for them, proving that the loss of a limb did not mean that one couldn't live a full and rewarding life.  He was also involved with the Sister Kenny Foundation, which did charity volunteer work for crippled children.
At its peak, Li'l Abner appeared in more than 900 newspapers, with an estimated daily readership of 80 million Americans. Around the country, colleges and communities staged "Sadie Hawkins Day" events. A Broadway play based on Li'l Abner opened in 1956, and was an instant success, and remains a favorite for local productions.  It was made into a motion picture in 1959.  In 1968 a theme-park called Dogpatch USA opened in Jasper, Arkansas based on Capp's work and with his support.

Along with a team of assistants, Capp kept the adventures of the denizens of Dogpatch in the papers through the 1970s. The fantasy artist, Frank Frazetta penciled the Sunday page continuities from 1954 to 1962, when a salary dispute ended their professional relationship. Capp still wrote the stories, thumbnailed the layouts and inked the faces and hands himself.

Capp revelled in taking jabs at hypocrites of all persuasions. In the mid-1960s, he turned his attention to liberal counterculture figures. He toured college campuses as a speaker, taking confrontational stands on current events. After witnessing student riots in his own neighborhood of Cambridge, Massachusetts (near Harvard) he took on anti-war protesters and demonstrators with a vengeance. In 1971, Capp was charged with "attempted adultery" by a female student at the University of Wisconsin at Madison. The fallout cost him circulation, with hundreds of papers dropping his strip. Capp removed himself from public speaking and continued to produce Li'l Abner until failing health forced him to retire in 1977. He died two years later of emphysema, on November 5th, 1979.

In 1946, Capp created an autobiographical comic book, Al Capp By Li'l Abner, which was distributed by the Red Cross to encourage thousands of amputee veterans returning from WWII…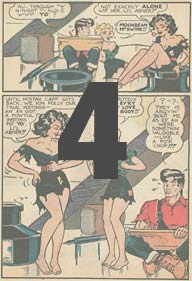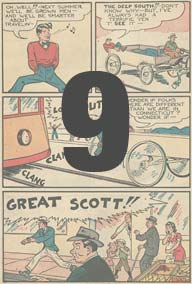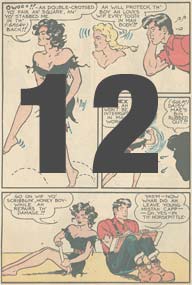 TO BE CONTINUED…
Let me know what you think of this article in the comments.
-Mike Fontanelli, 2008
Many thanks to Mike for this wonderful series of articles.
Stephen Worth
Director
Animation Resources
This posting is part of a series of articles comprising an online exhibit by Mike Fontanelli profiling the career of Al Capp.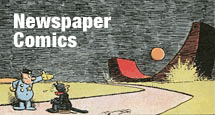 This posting is part of the online Encyclopedia of Cartooning under the subject heading, Newspaper Comics.













by