When you join Animation Resources, you get a lot more than just what you see daily on Facebook. Every other month, members get access to a downloadable reference pack- a PDF e-book filled with rare artwork and DVD quality animated films. In addition, we produce an audio podcast series, and seminars and lectures on video.
Here is an example of a video "show and tell" we recently shared with our member. It's two solid hours of insight into the process that goes into designing backgrounds for an animated television series.
In honor of Members Appreciation Month, we are sharing this with everyone. Hopefully, you will get excited about what we are doing and JOIN US. But don't delay. When Member Appreciation Month is over, we will be making this video "members only" again, so watch it while you can… and JOIN Animation Resources so you won't miss any of our future video seminars.
VIDEO SEMINAR 001:

BG Layouts By Nestor Redondo

Aired 07/21/17 / YouTube / 720p HD / 2:00:00
Animation Resources is proud to present a two hour video seminar on background layout featuring the work of Nestor Redondo. The video contains hundreds of incredible drawings illustrating every conceivable environment from Amazon rain forests to urban cityscapes to cartoon towns to outer space. Redondo was a brilliant artist and his work will show you how a professional background layout artist thinks.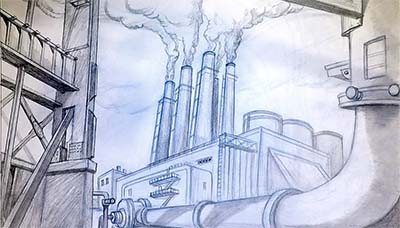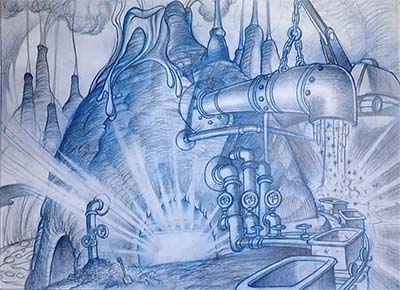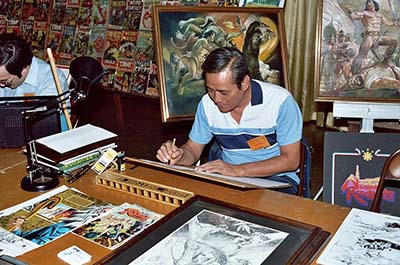 BIOGRAPHY
Nestor Redondo was born in Canton, Locos Sur, Philippines on May 4, 1928. He began drawing at an early age influenced vt European old masters such as Michelangelo, DaVinci and Rembrandt, as well as American illustrators Dean Cornwell, Virgil Finlay, J. C. Leyendecker and Norman Rockwell. He was an admirer of the graphic story work of Caniff, Foster, Raymond, Fine and Kirby.
Nestor and his brother Virgillo were encouraged to pursue an artistic career by their father, who attended Ohio State University with Milton Caniff. He would proudly show Caniff's strips to his two sons. Nestor drew day and night as a youngster. At night, the only illumination was a flickering candle. When his mother would call a halt by taking the candle away, Nestor would continue to draw by the light of the moon.
After high school, Redondo studied architecture. His elder brother Virgillo, already an artist and writer for comics, encouraged him to take up that trade. Virgillo was the writer and Nestor the artist on many of the Philippine comics industry's all-time classics. Several of these efforts were made into movies by the Philippine movie industry. Nestor was also active creating posters and ads for these and other Phillipine movies.
Nestor Redondo's comics were among the most popular in the Philippines from their first appearance in the late Forties. Among the major characters he created was "Ga Ga Mba" ("The Spider") who was a superhero with the trappings of a spider, which preceded (and differed somewhat) from the U.S. version. Another was "Palos", a James Bond style detective/adventure strip (written with Virgillo).
Redondo eventually became a comics publisher himself. Two of the weekly and bi-weekly books he published were "Cras Pubs" and "Ares Pubs" These were notable for two reasons, aside from Nestor's beautiful art. One is that Nestor used these books to give experience to many of the students of the fine arts who would come to Redondo for training in basic drawing and storytelling techniques, which were unavailable in art school curriculums. The other was the free hand he gave to the legendary experimental and wildly imaginative Philippine artists: Renato Lemos, Joel Maggayo, Alex Nino, Roz Matienzo and Tony DeZuniga.
In the early 1970s, Nestor's work came to the attention of DC Comics. They saw the potential his work contained and hired him. His first solo book for DC, "Rima" stands as a magnificently rendered comic. He took over art chores on the popular "Swamp Thing" comics, replacing Berni Wrightson. He also did a noteworthy treasury sized adaptation of the Bible for DC.
Nestor is also an accomplished oil and watercolor painter. He is one of the few fine artists working in the comics His paintings are purchased by art collectors in the Philippines and Japan, including Imelda Marcos, first lady of the Philippines. To this day, sculptors will often consult with Nestor regarding their basic drawings. American audiences got their first look at Redondo's painting style in 1979 with two covers for Marvel Comics' "Savage Sword of Conan". It's interesting to note that Nestor Redondo does not use models in his work. Nestor plans to keep busy in the coming years with a variety of projects, as well as continuing to develop new artists at his studio in Manilla. Already younger brother Francisco ("Quico") has done illustrations for DC.
Nestor's attitude toward his art can be summed up in this quoter from Philippine archivist Orly Jundis…
"He takes fine art away from the confines of the museum or the home of a private collector and draws specifically for the entertainment of the masses"
This biography of Redondo was written in 1979. He passed away in 1995.
Many thanks to Ken Leonard for sharing these treasures with us.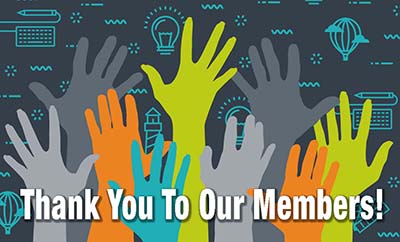 It's Members Appreciation Time again at Animation Resources, and for the next 30 days we will be sharing reasons why you should be a member of our important project. For more information on the benefits of membership, see the Member Appreciation Page. It's easy to join. Just click on this link and you can sign up right now online…
---
JOIN TODAY!
https://animationresources.org/membership/levels/
---


Animation Resources depends on your contributions to support its projects. Even if you can't afford to join our group right now, please click the button below to donate whatever you can afford using PayPal.












by