Animation Resources supporter Christopher Lopez saw our feature on George Lichty a month or two back and generously decided to donate a big stack of vintage Grin And Bear It dalies and Sunday pages. I grew up with George Lichty's cartoons in the funnies every day, and as a kid, I didn't give much thought to them. At first glance, Lichty's drawings appear sloppy, with formulaic oafish characters standing around with their jaws agape. But look closer… His compositional sense and skill at putting across a visual gag is remarkable. There's nothing sloppy about his use of perspective either. The most amazing thing is that his lines seem to be alive!
Along with the batch of comics, Christopher included an article on Lichty from 1952. It mentions a feature in the Saturday Evening Post titled "Does Lichty Really Hate People" (does anyone out there have a copy of that article we could scan?) and offers some choice tidbits on Lichty's working habits and lifestyle…

He works best in a crowded, noisy newspaper office. His desk is heaped so high with old drawings, discarded captions, letters he has forgotten to mail, cigarette stubs and fan mail that ever fourth day the janitors are ordered to dig through the debris just to make sure that Lichty is still alive and breathing.
Lichty has a few happy passtimes… He likes to putter around the house. When in doubt he lays little brick walls that wind aimlessly around the Lichty garden. He also plays the bass drum, sometimes at home, but more often as a member of the Guckenheimer Sour Kraut Band, a unique musical institution that he says is perpetuating a dying art form. He is not certain what the art form is, but anyway, he admits it is dying.
Now if that isn't a great description of the life of a cartoonist, I don't know what is!
Lichty was one of the comic page's longest working artists. His style changed little over the years. (Compare the examples below from the late thirties to the Sunday pages from the 50s.) Lichty's distinctive free flowing lines were a staple of the funnies for over half a century. He may have drawn slouches, but I think you'll agree, as an artist, he was no slouch himself!
Here (thanks to Joseph Campana) is the entry on Lichty from Martin Sheridan's Comics And Their Creators…
1939 DAILY STRIPS
1937 SUNDAY PAGES
MID 1940s DAILY STRIPS
1950s SUNDAY PAGES
Thanks Christopher!
Check out the fascinating link between Coal Black and de Sebben Dwarfs and George Lichty in John K's All Kinds of Stuff.
Stephen Worth
Director
Animation Resources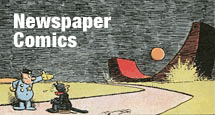 This posting is part of the online Encyclopedia of Cartooning under the subject heading, Newspaper Comics.













by